I've made no secret my love of goats. I don't know why since I have very little experience with goats and what experience I do have is limited to baby goats at the zoo that thought I was pretty fucking cool.
How can you look at this and not want one? Seriously. If you look at this and tell yourself no, there is something wrong with you.
But I've been trying to convince Matt that getting a goat is an awesome idea. Sure, we probably would be breaking a law since we live in the city, but if people can have chickens, why can't I have a goat?
So cute. Who can really say no to this cutie patootie?
An asshole dream killer, that's who. Matt says no because he believes it would be more work for him. Which, admittedly, it would be. We have an agreement that he is animal cleanup. I don't even clean up my own kids' poop and puke because it makes me puke, so I certainly don't do it for the animals.
Shudder
But honestly- the goat would eat a lot of grass. I watched a Goat 101 video and they aren't like horses who eat grass to the roots- goats just eat the tops.
Perfect
I have two trees in my yard, one that basically looks dead like this. It'd be fucking AMAZING to drive down the alley and be like, "Oh shit, that crazy bitch has a goat in her tree!".
Right?
Of course.
But since Matt says no, I figure the next best thing is to find myself a fake goat and if it lights up and looks obnoxious, bonus. But would you believe this is hard to find? Here's what I found and I really want.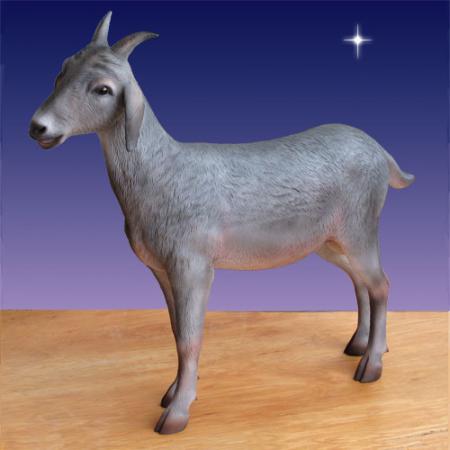 It's a
whopping $459 but it says it's LIFE SIZE
and honestly, that'd be awesome to have on my deck. Right? But, shocker, Matt doesn't seem keen on this.
So my good friend Shirley found me this gem on a "discreet romance" site which is disturbing on so many levels.
Which... I don't think I want. I mean, a party goat is awesome but can you imagine the spam and bizarre lists I would get on? No spank you.
So here it is: if you can find me a light up goat, or something fucking kick ass that I can have instead of a live goat, you let me know. I may have a special prize for you.
But I don't know why Matt says no to this. I just want to hug it.