Well folks, I am behind on life due to the plague of death, round two. Even though I am no longer housed in the bathroom for a variety of fun, I still feel like I am swallowing glass. Which you know, is awesome. But I am trying to catch up on life so here we go.
How To Eat A Cupcake by Meg Donahue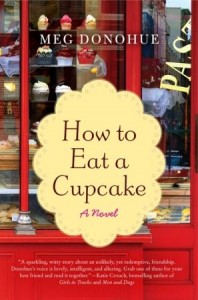 Free-spirited Annie Quintana and sophisticated Julia St. Clair come from two different worlds. Yet, as the daughter of the St. Clairs' housekeeper, Annie grew up in Julia's San Francisco mansion and they forged a bond that only two little girls oblivious to class differences could—until a life-altering betrayal destroyed their friendship.
A decade later, Annie bakes to fill the void left in her heart by her mother's death, and a painful secret jeopardizes Julia's engagement to the man she loves. A chance reunion prompts the unlikely duo to open a cupcakery, but when a mysterious saboteur opens up old wounds, they must finally face the truth about their past or risk losing everything.
You know I love me a good chick lit book, but I've grown frustrated with most of what I have read recently. Every story sounds like another book I have read. I feel like this is like a few books but we changed up the setting and put some cupcakes in it.
Part of what made this just a mediocre book for me is that it never hooked me, drew me in to keep reading. I could predict everything that happened, the fights/arguments between Annie and Julia, and the ending. And it's so frustrating because I felt like the author wanted to have this fun book that would be a fun book club read or something to share among friends and this just doesn't get there. The characters are predictable and... stereotypical? Annie is the low income Hispanic person who holds a grudge against the world and then there's Julia, privileged, wealthy white girl. You know what happens, you know why they had their big rift and you know how it ends.
Overall, if you really love chick lit and that's really the only genre that gets you reading- pick this one up, you won't be disappointed. On the other hand, if you read to get a new story, or to experience something, wait for my next review.
Meg will be joining Book Club Girl on April 24 at 7pm Eastern Standard Time so if you like hearing from authors, please check this out
here
. And of course, see
Meg's website
!