By the time you read this, your Lambwhore Leader will be well on my way to Chicago for my 30th Birthday Bash Weekend. You know I'll bring you loads of pictures, but you'll have to be patient until probably Monday. I come back on Sunday but I have no idea when and I'll probably be too busy squeezing the guts out of my kids to post.
You'll survive. But in case you don't, you should read this book. This weekend.
Losing Clementine by Ashley Ream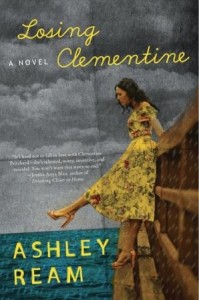 In thirty days Clementine Pritchard will be finished with her last painting and her life.
World-renowned artist and sharp-tongued wit Clementine Pritchard has decided that she's done. After flushing away a medicine cabinet full of prescriptions, she gives herself thirty days to tie up loose ends—finish one last painting, make nice with her ex-husband, and find a home for her cat. Clementine plans to spend the month she has left in a swirl of art-world parties, manic work sessions, and outrageous acts—but what she doesn't expect is to uncover secrets surrounding the tragedy that befell her mother and sister. In an ending no one sees coming, will we lose Clementine or will we find her?
I absolutely
loved
this book. I have a thing about suicide novels because I guess it's such a polarizing topic and I suppose it depends on which side of it you're on whether you'll like it or not. Though it's fiction, I would believe that a good portion of suicidal people are as methodical in planning their death as Clementine was.
I loved Clementine's character and though she's flawed, I think that I would probably think just like her. Perhaps that's why I was so drawn in by this book. I think that given the same set of circumstances as Clementine I would almost certainly see suicide as an option. Clementine suffers from a multitude of mental health issues which may or may not be genetic given the unfortunate and untimely deaths of her mother and sister, and after trying every available option she realizes that nothing makes her feel better. It's all shades of gray, deciding what side effects are worth dealing with and weighing whether it's better to feel in bad in different ways than be perceived as crazy.
Of course, you don't see the ending coming. And I'm not going to lie- I cried when she gave away her cat, Chuckles. I totally cried because it's like you're mourning the death of something already and then it made me even more sad for Clementine. But I do like the ending and I was so pleasantly surprised at how much I really loved this book and of course, I recommend you read it as well. AND, I want you to check out her
website, Facebook, and Twitter
because Ashley seems like a funny and great person so she'll keep you entertained. And, if you like interviews,
Book Girl Club is interviewing Ashley April 10 at 8pm EST
.
Read on party lambs!