I absolutely love when books just show up to my house and I don't know where they are from initially. Luckily for me, I got an email a few days later explaining, but what a nice surprise of a very lovely book.
The Appearance of Annie Van Sinderen - Katherine Howe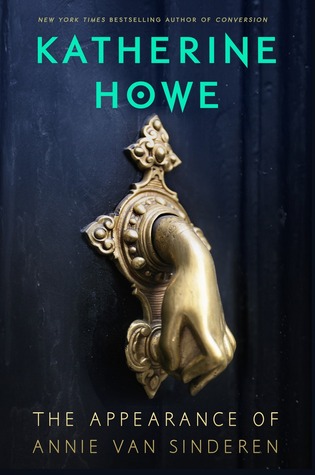 It's summertime in New York City, and aspiring filmmaker Wes Auckerman has just arrived to start his summer term at NYU. While shooting a séance at a psychic's in the East Village, he meets a mysterious, intoxicatingly beautiful girl named Annie.
As they start spending time together, Wes finds himself falling for her, drawn to her rose petal lips and her entrancing glow. But there's something about her that he can't put his finger on that makes him wonder about this intriguing hipster girl from the Village. Why does she use such strange slang? Why does she always seem so reserved and distant? And, most importantly, why does he only seem to run into her on one block near the Bowery? Annie's hiding something, a dark secret from her past that may be the answer to all of Wes's questions .
I don't know that I've had a contemporary romance in awhile but that's exactly what this is. Also, I am a Katherine Howe virgin and I am so glad this is the book that popped the cherry because it is stunning!
The book centers around Wes, young and girl dumb, aspiring filmmaker and new to big city life. At the beginning of the story he finds himself helping a friend with the sound for his film in a seance where he spies a variety of characters but there's a girl who stands out. He tries so hard to get her attention, talk to her, but she seemingly vanishes. He sees her again outside a few days later and again, he's stricken by her beauty and this inexpiable need to help her, talk to her, something. But again, she vanishes. Then she appears to him, in his room no less, asking for help and he's sold. He's all in. But also he has Maddie, who doesn't disappear quite like Annie but she's peculiar- a self described fregan and squatter, he doesn't know why but he feels drawn to her too.
It doesn't take a genius to figure out that Annie is a ghost but Wes doesn't totally get it. But to his defense, I mean, would you really come to that as your first conclusion when a weird girl who seems kind of out of it keeps popping up and disappearing? The story does flip between Wes in modern times, and then Annie in the past shortly before her untimely death. While she's trying to figure out what happened to her, because she does seem especially confused on how she died, she realizes she only has so much time in order to figure this out. Meanwhile, Wes finds himself falling in love with Annie and I think we know how totally impractical that is going to be. And even still.. we have Maddie. Maddie never leaves us and I don't know why, but I kind of love her because she's funky and a little bit odd, and Wes is absolutely the perfect clueless boy who has zero game when it comes to girls.
Overall? I loved this book. It
does
start out a little slow for me which is what holds me back from giving it 5 stars. I didn't really get into the book until we flash back to Annie the first time, which is maybe when you get to about a third into the book. Somewhere in there. Once you get there it really picks up and the story flows really well. Katherine is a spectacular writer that keeps you engaged and she did such a fantastic job at crafting these characters. So much so that I really want to read what else Katherine has out, so I'll be combing
her website
to see what I've missed. Katherine is also on
Facebook
,
Goodreads
,
Pinterest
, and
Twitter
!
The Appearance of Annie Van Sinderen
will be available on September 15, 2015, but you can pre-order it now on
Amazon
and
Barnes & Noble
!
Happy reading, lambs!
Did you love this review? Follow me on Bloglovin' so you don't miss a review or any of my antics!