Oh lambs, I don't mean than in a creepy sexual way, but it's actually the title of a really fun romance novel coming out this month that you need to add to your online shopping carts, folks.
Thrill Me - Susan Mallery (Fool's Gold #18)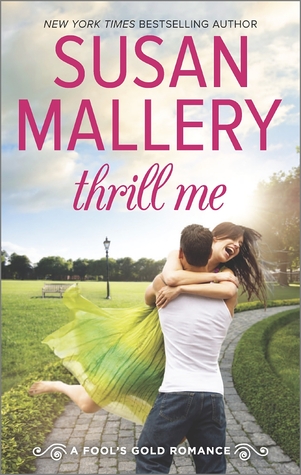 Maya Farlow learned the hard way to depend only on herself, so when she fell too deeply for the bad-boy charms of Del Mitchell, she did the only thing she could—she ran. Stunned, Del left Fool's Gold to make his name and fortune in extreme sports.
Now ten years later, Maya's been hired to promote her hometown's new slogan, The Destination for Romance. The celebrity spokesman is none other than Del, the man she dumped but never forgot. Awkward!
Although Del's not the type to hold a grudge, he's determined to avoid falling a second time for the woman who broke his heart. He's a daredevil, not an idiot. Trouble is, in all his adventures, he never found a rush as exhilarating as Maya's kiss. Maybe risking his heart will prove to be the biggest thrill of all…
Loved this. I will confess to this being my first book in this series and it's totally fine because at no point did I feel like I missed out on any back story. In fact, it makes me more anxious to go back and read the earlier books in this series because there are some couple's that I think I will have enjoyed their story quite a bit. But this book focuses on Maya and Del.
Maya and Del used to be high school sweethearts, they fell in love and hard. Del asked her to marry him and like any good young adult who had horrible examples of relationships growing up, she freaked out and ran. Broke Del's heart and she didn't recover either. Fast forward ten years and they both find themselves back in Fool's Gold and the attraction is still there. Maya quickly realizes that she is still in love with Del but she's not sure he feels the same. After all, after his dad's birthday party he has plans to up and leave and continue traveling the world. Del is absolutely sure Maya doesn't have any kind of romantic feelings for him so he's quietly planning his escape from the town that's too small for his big adventures. Throw in some family drama, a family illness, family secrets and you have a really great romance novel. It's literally everything you want in a fun, light romance novel. Susan Mallery continues to knock them out of the ball park because she's just that good.
And can I confess I really want a story with the two older randy women, Eddie and Gladys. I feel like them finding love in a future book might be the best thing ever. I'm just putting that out there, Susan. Overall? 4/5 stars, easily. I loved all of the characters, I loved the setting, and I loved the story. If you are a fan of Dorothea Benton Frank, you'll be a fan of Susan Mallery because they are right up there together as far as skill at crafting a great story in a little southern town you absolutely want to visit and/or move to.
You can connect with Susan on
Twitter
,
Facebook
and of course,
her website
.
Thrill Me
is available on
Amazon
as well as
Barnes & Noble
.