I love me a good romance any day of the week, even more so when it isn't over the top. Triple that if it's written by Mariah Stewart.
The Long Way Home - Mariah Stewart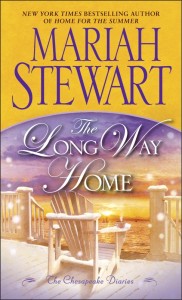 As the only child of a wealthy investment manager, Ellie Chapman has never known anything besides a life of perfect privilege. But her years of good fortune come to an abrupt end when her father is exposed for swindling billions of dollars from innocent investors in a massive Ponzi scheme. And just like that, Ellie loses everything: money, job, home—even her fiancé, who's jailed as her father's partner in crime. With no job prospects on the horizon, no cash, and her family name in tatters, Ellie has only one place to go.
.
Sleepy St. Dennis, Maryland, is hardly where Ellie intends to stay, however. Keeping her identity a secret, she plans to sell the house her late mother left her in the small town and use the proceeds to move on with her life. Unfortunately, her ticket to a new beginning is in dire need of a laundry list of pricey improvements, many of which she'll have to do herself. And until the house on Bay View Road is fit to be sold, the sole place Ellie will be traveling is the hardware store. But as the many charms of St. Dennis–not to mention Cameron O'Connor, the handsome local contractor who has secrets of his own–begin to work their magic, what begins as a lesson in do-it-yourself renovations might just end up as Ellie's very own rejuvenation.
I've read two other Chesapeake Diaries books, this being my third. The great thing about this series is that they all stand on their own, you don't need to read the previous ones to read this one. And for this being my third, I'm going to just call myself a life long Mariah Stewart fan because I really like her writing, I like how she tells a story, and I like how she writes a romance that feels normal and not absurdly over the top. I also want to say I really like the fact that her lead characters aren't crazy. You know how you read a romance novel and something happens, and the lead female completely over reacts and if this were real life and she were your real friend, you'd probably want to smack her up the head?
That's not how these characters are written, praise baby jeebus.
This story focuses on Ellis, who after her dad and fiance go to prison for being thieving assholes, moves to St. Dennis to go through the process of inheriting the house her mother left her. She hopes to eventually sell it and start totally fresh somewhere else. But she moves here, assumes the name Ellie and thinks nobody will recognize her as the daughter of a beloved community member who had passed away years before.
But as it turns out, she was wrong, and that's OK.
Then she meets Cameron, the town's handyman/contractor and you can assume what happens there. But Cameron has a story of his own and together they figure out they are really good together. And just went it all feels like it's getting worked out, you throw in Gabrielle- the half sister Ellie had no idea she had.
Overall it was a good book and I made it my lazy ass Saturday read. Totally finished it in one afternoon while eating truffles and drinking Pepsi. So I clearly fell off the diet bandwagon that day, but that's OK. I'll get 'em next weekend, right?
If you're in need of a new, good book- you are in luck! I'm able to giveaway one copy to a reader (US/Canada only). Just leave me a comment on here with your email address so I can contact you if you're a winner. I'll draw a winner on Monday, March 4. Good luck!