Well this weekend was seriously eventful. We got a LOT into it, so here's a quick recap.
But NOT before we announce
the winner of the book Fallen
. I know, you probably all think I'm some flake and I'm not on top of things. But I am, and the winner is...
#3 Shana
!
YAY! So I'll email you and get your info and you can tell everyone you a winner if only for today.
Anyways, back to me.
So on Friday I sent Matt a mayday text message saying he needs to come home ASAP because we are buying a new mattress. That's it. I'm sick of rolling into the rut and having headaches and a kink in my neck and now my back and no- this bitch is done. DONE, I tell you.
When he came home, we loaded up the kids and went to HOM Furniture where we've scoped out beds and furniture for weeks now. And you know that we decided on what we wanted three weeks ago, so I not only took a picture of the items that were decided on, but we had the sales person write it down on the back of their card as a double check.
And wouldn't you know Matt stands there and questions me.
Silly show pony.
So I had to school him, in front of a very amused sales lady, that not only is he wrong, but I have written and photographic evidence as such, not to mention my killer memory.
*sigh*
I don't know why he just doesn't listen to me. So then once he agreed that I was right, he starts thinking maybe we should keep looking and he just doesn't know and yeah. It's annoying. I'm a pretty indecisive person when it comes to food but everything else, once a decision is made, it's done. Shit or get off the pot, I say. So I had to just tell the sales lady write it up because while he wanders around thinking we should do something better, she's writing it up. We all know he's going to come down and agree with me and at this point, I was starving, so I just wanted to go home.
So we have it all worked out and it's being delivered on Friday. YAY. Only four more nights of shit sleep. But here's what we got: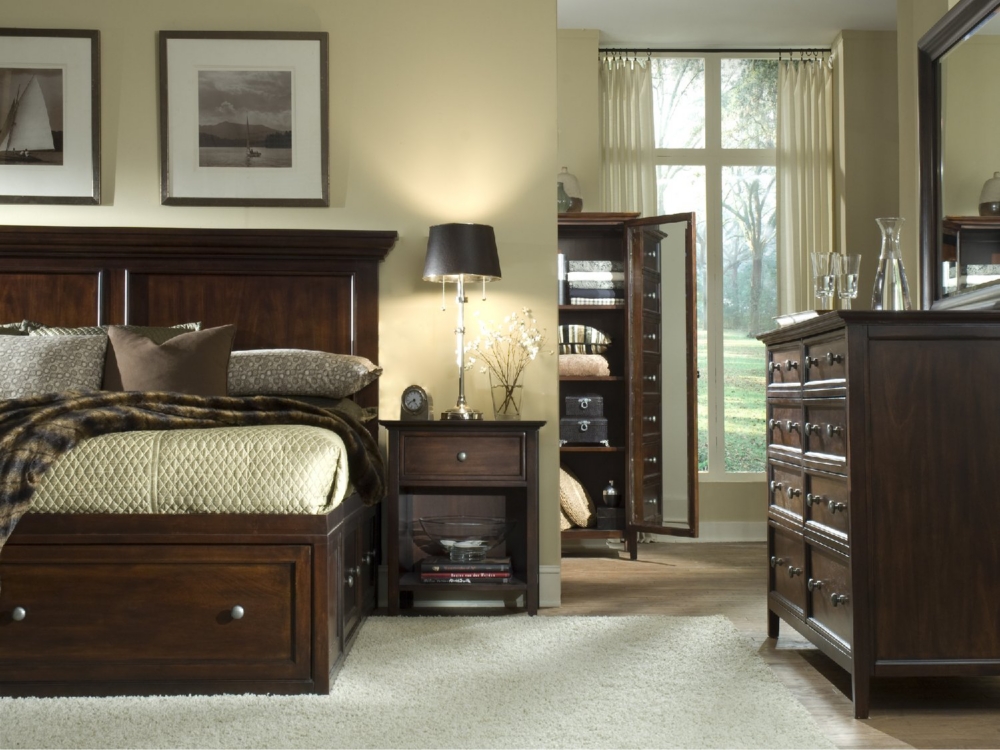 But we don't have that armoir thing. We have the bed (with storage... oh it's so delightful), two nightstands, the dresser and mirror shown, and then a tall dresser for Matt's shit. I'm so excited. I can't even tell you how excited I am to have dressers that work and I don't have to wrestle the drawers open.
And then we got the iComfort Savant Queen set. I was all, "I don't want to sleep on fucking foam. Foam is for losers."
Until
laid on the damn thing and almost had to be forcibly removed. It's hands down the most comfortable thing ever. It's like a cloud. I'll be sleeping on a cloud, JUST like a Care Bear. Except we got the low profile one to fit into our bed but it'll be the same height as our current bed. Which, yay. I like a high bed so I feel like I'm really climbing into bed. I'll never have to flip or rotate this, and I'm sure the cats are thrilled. Every time I do that I almost kill at least one of them and take out all of the furniture and wall hangings in the process. If it sinks like a half inch EVER, replaced with no problems.
I may or may not have offered to take their display model, I was THAT excited. But they mentioned something about warranty and cleanliness or whatever so I have to wait until Friday.
But then after all of that excitement, we went out to eat at Grandma's Restaurant. Which, is one of my favorites in Duluth because I like their American Classic burger. To the point where I will literally crave it. God dammit I love that place. Anyways.
So a few weeks ago I was toying with the crazy ass option of eating kale per
Finny
who was telling me that it's OK to eat and good for you. But then she said it was also used for garnish and I was like, oh hell no. Done, not doing it. That and she said it has a
peculiar
flavor and very different from my regular vegetable intake of iceberg lettuce.
Well I failed to see this kale shit on my burger and I ate it on accident. I was that excited for my burger.
Long story short, I had to slam my entire glass of Coke so it would go down without my vomiting all over the table which is what I do when I eat things that are bad. It's embarrassing and honestly, if I could control that I totally would. Lesson of this is that A) I don't like kale and B) don't ever ask me to try new things- I might puke.
Matt gave me
the look
because he knew things were going to go south, which is why I ended up with a mean case of burping and hiccups from slamming that much of a carbonated beverage in a short span.
Clearly better than vomiting all over the place.