It's time for a book review AND a giveaway! I haven't had one of these in awhile so this will be fun.
Night Watch- Linda Fairstein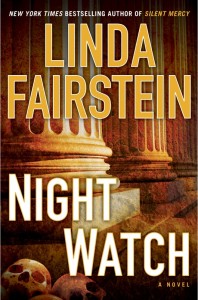 Forty-eight hours after Alexandra Cooper arrives in France to visit her boyfriend and famed restaurateur, Luc Rouget, her vacation in paradise is cut short when a young woman from the village is found murdered. The only evidence discovered on the body is one of Luc's matchboxes promoting his new restaurant in Manhattan. But before the investigation begins, Alex is summoned back to New York to handle a high profile case. Mohammed Gil-Darsin, the distinguished and wealthy Head of the World Economic Bureau, has been arrested and accused of attacking a maid in his hotel. As the world watches in fascination to see how the scandal will unfold, Alex finds her attention torn between preparing the alleged victim to testify and a murder case with ties too close to home. When a second body is found with Luc's matchbox—this time in Brooklyn—Alex begins to fear that the two cases may not be as unrelated as she thought, and that uncovering the sordid secrets of the city's most wealthy and powerful could cost her and her loved ones everything they hold dear.
At 400-some pages in length, this was a meaty book. Although at times the book was slow going, you can't help but want to finish it to figure out how all of the pieces of the puzzle come together and find out who is really doing what and why.
I really loved the very intricate story line of the book because the author gives you all these bits of information and you don't know if they all fit together as one large crime story or if there are in fact, two separate crime stories happening at the same time with overlapping characters. When two characters are introduced towards the end I knew immediately what was going on and I was totally right. (Thank you, Law & Order: Criminal Intent!) It basically read exactly like a Law & Order episode and that was very cool.
One thing I kind of hated was Alexandra. I like how initially she's this intelligent, independent woman with a career. Loved that. But within a few chapters that unravels to her becoming this whiny worrier that overshadows her judgement and decision making. She makes terrible decisions and she's the epitome of the argument that women are too emotional to be in high level, high stress careers. So that was kind of annoying but I liked how towards the end she pulled her crap together and got her game face on. And let me just say, I think her and one of the detectives should just start dating because there is clearly some chemistry there, they are just both too stubborn to do anything about it. *just saying*
Overall I really liked the book and it was a very good suspense/thriller book with enough in it to keep you going even through some of the slow points. Linda has a website that you should check out
HERE
. But you all have the opportunity to win your own copy of this book!
*Must be a follower via GFC
*Must leave a comment on this post with your email address
*Optional: Share this giveaway on Facebook, Twitter, or your own blog (leave me a link in the comments below)
Giveaway will end on FRIDAY, JULY 27!