Relax! I'm not going anywhere! I have a book review for you right now, but check back later tonight for my fattie progress report.
Miss Me When I'm Gone- Emily Arsenault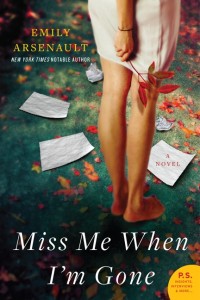 Author Gretchen Waters made a name for herself with her bestseller Tammyland—a memoir about her divorce and her admiration for country music icons Tammy Wynette, Loretta Lynn, and Dolly Parton that was praised as a "honky-tonk Eat, Pray, Love." But her writing career is cut abruptly short when she dies from a fall down a set of stone library steps. It is a tragic accident and no one suspects foul play, certainly not Gretchen's best friend from college, Jamie, who's been named the late author's literary executor.
But there's an unfinished manuscript Gretchen left behind that is much darker thanTammyland: a book ostensibly about male country musicians yet centered on a murder in Gretchen's family that haunted her childhood. In its pages, Gretchen seems to be speaking to Jamie from beyond the grave—suggesting her death was no accident . . . and that Jamie must piece together the story someone would kill to keep untold.
I absolutely thought I would love this book because the premise behind it is intriguing and sounds like you couldn't put it down. Sadly... not the case.
Here's the deal- I really thought I would like Jamie because I feel like she'd be easy to relate to? She's just lost her best friend, she's pregnant, she has what seems like a marriage that maybe isn't bad but more in a rough spot, and that maybe I would see a little of myself in her. As it turns out, I couldn't and I didn't like her. And I really tried. And honestly? Maybe the reason I didn't like this book was because of Jamie.
I really liked Gretchen's story line and how her life story is essentially tied into her own writing. I enjoyed reading what Gretchen wrote, or thinking about what she wrote in her notebooks to try to figure out her death... what was the hidden puzzle piece? What it turns out to be is not anything that I was expecting, which I totally love in a story, but the way Jamie goes about it.. oy. I have to side with Jamie's husband, who essentially is upset at how consumed she gets with it and all of the traveling.
I don't know. I feel like it ended up not being what I expected, but I can absolutely see why others would like this book. If the description calls to you- I would like you to read it and tell me I'm an idiot who shouldn't read while I'm in my crabby PMS week. And I will probably try to re-read this in a few months to see if I come at it with a different perspective because I feel like there is something I'm missing? I finished the book not feeling fully satisfied, and feeling like the book could have gone one route but didn't and I don't really understand why? Does that make sense? Probably not to you if you haven't read it, but I feel like I was expecting more from Jamie and really... a little more from Gretchen, too?
BUT, I never ask you to rely on just me, so please visit the other blogs on this tour to see what they are saying
HERE
, visit Emily's website
HERE
, or her
Facebook page
.