Raise your hand if you need a really quick book to read? Like read-it-in-one-sitting and it's really good kind of book?
Then put your hand down because you look ridiculous and just buy this book.
The Laws of Love - Lisa White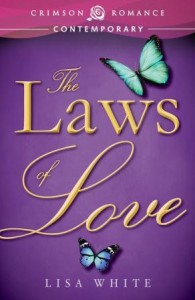 Because having it all does not necessarily mean having it all at once…
In a small, Virginia town where fly-fishing is the favorite pastime and Hampton Steel is essentially the only employer, Associate General Counsel Livi Miller believes she has reached the top rung of Hampton Steel's corporate ladder. With her alcoholic boss retiring soon, Livi is the presumptive heir to Hampton Steel's general counsel position. However, in the midst of proving herself promotion-worthy, Livi's high school sweetheart, Jake Cooper, returns from Iraq and causes long-lost butterflies to alight in Livi's emotionally charged stomach. The resulting loss of her promotion to slimy newcomer Edward Winston combines with her rekindled feelings for Jake to place Livi on track to choose between her career and her heart.
If she chooses Hampton Steel, she saves her hometown. If she chooses Jake, she saves her butterflies as well as herself.
I know I've talked about romance novels having really lame women as leads and how this drives me insane. Because most women worth knowing aren't falling over themselves in despair and broken hearts, their entire life doesn't revolve around some guy, and they aren't afraid to do for themselves. Which is exactly how Livi Miller is in this book. I absolutely loved her and I really liked her common sense approach to her alcoholic boss, the work drama, and Jake.
Which I'm going to say it- I kind of didn't like Jake. Because he was kind of a jerk to Livi and I was afraid he wouldn't come around and just end up being a jerk forever. He's a well written character and he's what you expect he would be like if he were a real person, but I just didn't like his "me or your job" attitude. I mean, it's 2012, women can work, buddy.
And I wish I could tell you how THAT ends up but it kind of ruins it for you. But the book reads fast and it's listed at 147 pages but I'm telling you, you'll fly through it. I will say some of my favorite parts are their reminiscing. But the downside is that with it being a short book I feel like some parts were rushed. A few passages could have had a little... more to them, but I don't feel like the story is less good because it's not as long. Everything felt finished to me, and that's more than I can say for some other books I've read with hundreds of pages.
Overall? Good, solid read. It'd make a fun holiday gift for a friend or stocking stuffer. (What? You don't stock stockings with books? You should. Loser.)
Lisa has a
website
, a
Facebook
, and you can see what other tour stops are saying about her book
here
.