I know, are you amazed that I'm kicking ass at book reviews this week? I'm slapping you silly all weeks. It's kind of great. Just wait until next week, lambs!
Vanishing Girls - Lauren Oliver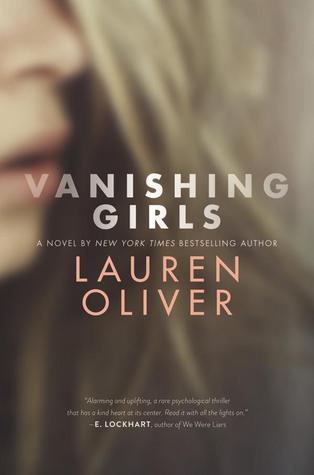 New York Times bestselling author Lauren Oliver delivers a gripping story about two sisters inexorably altered by a terrible accident.

Dara and Nick used to be inseparable, but that was before the accident that left Dara's beautiful face scarred and the two sisters totally estranged. When Dara vanishes on her birthday, Nick thinks Dara is just playing around. But another girl, nine-year-old Madeline Snow, has vanished, too, and Nick becomes increasingly convinced that the two disappearances are linked. Now Nick has to find her sister, before it's too late.

In this edgy and compelling novel, Lauren Oliver creates a world of intrigue, loss, and suspicion as two sisters search to find themselves, and each other.

"Alarming and uplifting, a rare psychological thriller that has a kind heart at its center. Read it with all the lights on." -- E. Lockhart, author of We Were Liars.
****
So I absolutely loved this. I am a self proclaimed Lauren Oliver virgin, and now I feel like I have to go back and read everything she has. This book is classified as Young Adult but it could easily cross over into thriller. Yes, it's about two teenage sisters and we have teenage angst and sibling rivalry, but it's so much more than that. I read a few reviews once I finished this because that ending- not at ALL what I thought it was going to be, and I am really disappointed in people. A common thing I've seen is that it's a slow build up and a disappointing ending. Um, are you kidding me? OK, the build up is slow. But it really built the relationship between Dara and Nick. You see the full dysfunction of this family. Just when you think you know how this is going to end up, the author really does a 180 on you and it's like, WHAT IS HAPPENING?!
Which is why I call this a psychological thriller because it's all in your head. Everything that you think it is, it isn't, and it's all in your head. You're so used to drawing the logical conclusion but that's not what we have here. I love how there are emails back and forth from the family psychologist to the parents, to other doctors, etc and it really solidifies what you just read. I had to re-read two chapters in particular to make sure I even read it correctly and that I wasn't making this up in my head.
I absolutely loved this book. I loved the writing, I loved the character development, I loved that we saw just enough of the family dynamic to make it all a bit eerie, and I loved how the author had all of these strings going in seemingly one direction while really leading us a totally different way. Absolutely perfectly done. I wasn't sure how much I would like this book but this is one I would readily recommend to anyone who likes Young Adult, but even anyone who likes a good suspenseful story.
Lauren has a website that you can browse and/or stalk her, you'll find that
HERE
. Amazingly, the books are really nicely priced at both
Amazon
and
Barnes & Noble
. (Hardcovers, even!!) But if you can't buy it right now, please add it to your
GoodReads
list so you don't forget!