An unexpectedly great and funny book. YAY!
Shuffle Up and Deal - Susan DiPlacido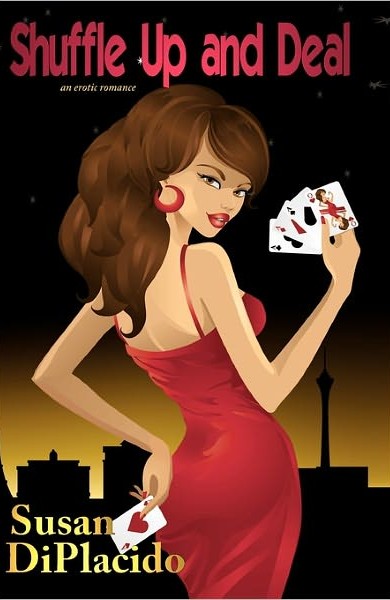 When Izzy and Nick meet in embarrassing fashion at a
Las Vegas
poker tournament, Izzy's secret dreams turn into a public nightmare. But despite her humiliation, she may have finally sparked Nick's interest in something other than cards. Before long, Nick takes a gamble on Izzy and raises the stakes when he offers to help her sharpen her game. But Izzy's convinced that Nick is bluffing and will fold his hand after he's had her on the flop. But a string of outrageous proposition bets and steamy trips on the poker tour, from
Los Angeles
to
Miami
, make these two fierce competitors realize that it may be time to put all their chips on the table. Will Izzy and Nick pair up? Or will they lose it all if they go all-in for each other? Sit down, ante up, and hang on, as Nick and Izzy get ready to Shuffle Up and Deal.
Can I just say that I absolutely love Izzy? Because I feel like her and I would be good friends if she were you know, a real person. I wasn't sure if I would like this book considering I know nothing about poker but as it turns our, I totally loved the book. And I laughed a lot, mostly at Izzy because she is just the least graceful person ever.
The only thing I didn't love about the book? The poker terminology, puns, and euphemisms. Sure, you kind of expect a few, but there were actually a lot of them and I feel like that would maybe turn off a reader.
But don't let that stop you! Seriously, don't turn away.
From the beginning of the book where her boyfriend of the moment walks out on her, to the retainer, to her bitch of a step mom, to Nick, to her in a tournament, all of it- it's good. It keeps you going through all 417 pages because you are rooting for Izzy and hoping that Nick doesn't turn out to be a too-good-to-be-true-douchebag. Which, I can't tell you if he does or not, but let's just say I was satisfied with the ending!
It is an erotic romance so you can clearly expect sex and I actually kind of loved those scenes. Sure, some is a bit... much, but in others it's kind of how I guess I would react if I were Izzy. There's a part in the book where they are with another couple and I was equally curious, horrified, angry, and laughing. That's a testament to Susan's writing and I really enjoyed it. I really want you to read it and then tell me what you think. Just ignore the poker references. HA!
This book is another one I'm reviewing for Pump Up Your Book and I have to say, some of my favorite books this year are either self published or published under very small publishing houses and that's kind of great. I had a reader ask me the other day why I do this and it's simple- because there is a LOT of talent out there that should be recognized more and Susan is one of them. I am really excited to see what she's working on next. Check out Susan's
website
and her
blog
!
If you go
HERE
you can enter to win a Kindle Fire HD!