Good evening, lambies. So, while I do have a book review tonight- check back later because I'll have a fun, regular post for you as well. Because I'm a giver like that.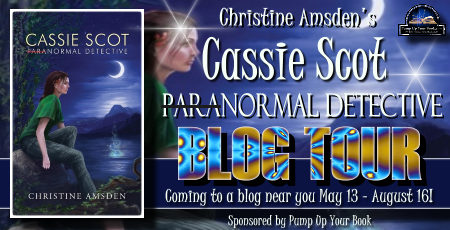 Cassie Scot: (Para)normal Detective
Cassie Scot is the ungifted daughter of powerful sorcerers, born between worlds but belonging to neither. At 21, all she wants is to find a place for herself, but earning a living as a private investigator in the shadow of her family's reputation isn't easy. When she is pulled into a paranormal investigation, and tempted by a powerful and handsome sorcerer, she will have to decide where she truly belongs.
I absolutely loved this book. I basically flew through this in one afternoon because I couldn't put it down. While it's technically a YA book, you would never know it- it doesn't have the random teenager fluff that some YA novels have.
Basically this book is about Cassie, who is born into a family of sorcerers, but unlike everyone else, she has no real powers. She's kind of the black sheep of the family who is constantly being protected since she really can't do it for herself. She strikes out on her own and becomes a police officer only to quickly realize her whole purpose of becoming someone to protect others is useless because the people doing the bad deeds don't really worry about the law so much. Instead, she starts up her own private detective business and while not busy, she remains optimistic.
Until she gets her first real client which sends her on a ridiculously dangerous path to dead witches, vampires, love potions gone awry, and of course, a hunky boy from her past who has secrets of his own. She isn't 100% sure Evan likes her that way considering they were friends for years but she can't be sure when everyone around her seems to think he is very much interested in her. He helps her out and basically saves the day for her several times but it all comes with a heavy price.
Which you find out what that is at the end and you're left with holy hell- where the hell is the sequel? Because there HAS to be a sequel. You can't leave me hanging like this and give me no word of a sequel. (If you could see me now, I'm actually stomping my foot like a petulant child.)
So I'm telling you right now to go out and get this book. SUCH a talented writer, I'm very interested in reading some of her other books because hands down- a very entertaining, fast paced book that you cannot put down.