Book review time! Let's break up the downer posts this week with a review, shall we?
Broken - M. L. Young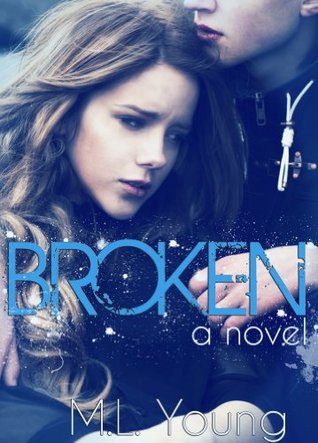 Bailey Wrenn is a small town girl with a big back story. Her mother left when she was young, leaving her in the care of an out of touch alcoholic father that barely noticed her existence. After trudging through life with no clear direction, she begins to wonder if she needs to leave this scarred memory of a town behind and finally move on. When Bailey hears from her friend Julie that life in Chicago is great and she should come out sometime, she takes that open invitation, and comes to visit her old friend with no idea of when she's going to leave.
One night, after Julie drags her from the apartment to see a local fight, she sees Kyle, a mysterious MMA fighter with a winning streak and an elusive personality. He doesn't talk to anybody after his fights, and disappears faster than Bailey can blink. One day during a chance encounter filling out job applications, Bailey runs into Kyle at his work, and the electricity between them is bright enough to light up the city.
It's only when they begin to get close, though, that things are turned upside down. An old boyfriend and a brutal and devastating past makes Bailey believe she can't be close to another man ever again, even if he seems perfect. She feels alone. She's broken.
HEA and no cliffhanger! This is a standalone novel.
*This book is recommended for readers 17 and up for violence, language, and some adult situations.*
I had actually been pretty excited to read this book and then I started reading it and yeah.... nothing really comes together. It's certainly not the worst book I've read. I will say there are a lot of areas this book could have some improvements to make it a better book. The dialogue is not great, it comes off of very... teenager angsty, which doesn't make sense since it's not geared towards teenagers persay, it does have violence and other things I wouldn't want my teenager to read.
Bailey basically has a pretty crappy life. Her mom is missing in action, her father is a drunk who has checked out on being a parent, and she basically has zero guidance. So she leaves and heads to Chicago where she meets Kyle (well, she mostly sees him at first and later meets him) and things are kind of fun between them. Then we start learning more about Bailey's back story and her ex-boyfriend who's just a complete ass, and he essentially starts stalking her, which is ruining her life change in Chicago. But on top of all of this, she's trying to develop a relationship with Kyle and it's just really awkward to me and very.... vanilla. Not that I expected this to be a blazing romance, but to plan out a passionate evening weeks in advance? That's kind of weird, right? I mean, do people do that? I know I've never done that.
Overall? Lots of improvements to be made on this book. I think the potential of a good story is 3 stars, the execution of it is 1, maybe 2 stars. It's just not what I had hoped it to be.