I'm not even a fan of historical romance but I
had
to read this book and good lord I am so glad that I did.
I Shall Be Near To You - Erin Lindsay McCabe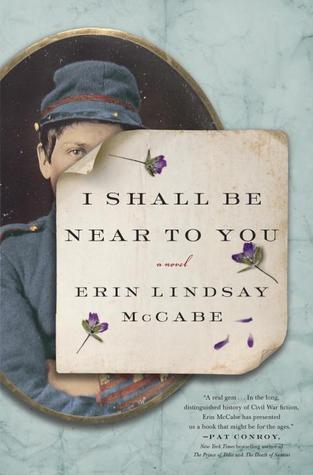 An extraordinary novel about a strong-willed woman who disguises herself as a man in order to fight beside her husband in the Civil War, inspired by a real female soldier's letters home
Rosetta doesn't want her new husband Jeremiah to enlist, but he joins up, hoping to make enough money that they'll be able to afford their own farm someday. Though she's always worked by her father's side as the son he never had, now that Rosetta is a wife she's told her place is inside with the other women. But Rosetta decides her true place is with Jeremiah, no matter what that means, and to be with him she cuts off her hair, hems an old pair of his pants, and signs up as a Union soldier.
Rosetta drills with the men, prepares herself for battle, and faces the tension as her husband comes to grips with having a fighting wife. Fearing discovery of her secret, Rosetta's strong will clashes with Jeremiah's as their marriage is tested by war. Inspired by over two hundred and fifty documented accounts of the women who fought in the Civil War while disguised as men,
I Shall Be Near To You
is the intimate story, in Rosetta's powerful and gorgeous voice, of the drama of marriage, one woman's amazing exploits, and the tender love story that can unfold when two partners face life's challenges side by side.
You guys, this book made me cry. I cried so hard. I knew right away how this thing was going to end and it just doesn't even matter because I wanted to know, and I wanted to be wrong. I wasn't, and I cried even harder when I realized what was happening. The last few chapters are just sadness, short and to the point.
The book is set during the Civil War, and starts off with Jeremiah enlisting. His goal is to marry Rosetta, enlist, and come back with enough money for them to start their farm in Nebraska, which has always been their end goal, their dream. Rosetta, rightfully so, is very upset that he has chosen to enlist. He didn't even ask her, he just went and did it and she feels a sense of doom as the date nears that he leaves. He's confident he'll come back because as he says, he has something to come back to. Rosetta isn't so sure because she sees the list of the dead go up at the local church and she knows more boys and men are not coming back.
One day Jeremiah ups and leaves. Rosetta senses something isn't quite right and she notices that he has put some real thought into this and has left her a series of notes and letters and she is just heartbroken. Jeremiah knows that a drawn out goodbye would have been too much for her so he thought this was the best way to do it. Except, after a scary encounter one afternoon, Rosetta decides the only place in the world for her is next to Jeremiah, at all costs. So she chops her hair and does a hasty job at transforming herself into a boy and she quickly enlists as well.
She finds Jeremiah, who is understandably upset she has done this, but equally pleased to see her because they really are soul mates. Nobody else in the world would work for either person, and it's seriously a really heart warming love story. Then we get into the war, we have casualty, close calls, romance, and you can see their bond strengthen.
And then we have the game charger almost to the end and I almost died. I knew it was coming, I knew it wasn't going to have a happy ending but by god, nothing in this world prepares you for it. I had to stop reading, totally go grab my Kleenex, and I had to take a breather so I could finish it. And man, what a sweet ending anyways? But what was fascinating to me was that I had no idea that women had enlisted like this in the Civil War and that this wasn't uncommon. And honestly, if you want to read a book where you feel like you are right there, in the war and with Jeremiah and Rosetta? This is it. Just, hands down, one of the best historical romance books I have ever read.
Erin has a
website you can check out
and you can add the book to Goodreads
HERE
.