If you are a fan of psychological thrillers, always with endings that make you question literally everything you've just read, then you need to read S. J. Watson. I read his first book,
Before I Go To Sleep
when it first came out and it was so incredibly amazing and creepy, I've since recommended it to people who are looking for good reads. When I had the opportunity to read his second novel, I was all in, and thank goodness.
Second Life - S.J. Watson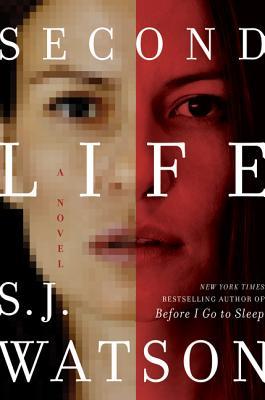 The sensational new psychological thriller from the bestselling author of Before I Go To Sleep ...She loves her husband. She's obsessed by a stranger. She's a devoted mother. She's prepared to lose everything. She knows what she's doing. She's out of control. She's innocent. She's guilty as sin. She's living two lives. She might lose both ...
There are so many things about this book that are absolutely infuriating, but my biggest complaint is the ending. Seriously, it all goes to shit and I feel like I never got a conclusion persay, though you know enough that you don't need an ending, so that's the odd thing. It's an ending yet it's not. The other thing is the main character, Julia. Oh lord I couldn't stand Julia.
So basically, this is the cautionary tale of why you should never, EVER have an affair online. And you should never, EVER meet these people in real life. Is every online relationship like this? Good lord, no. But it makes you strongly reconsider it, that's for sure. Julia recently loses her sister Kate, who was a victim of what police believe is a random murder. Years ago, Kate gave birth to a little boy who she didn't think she could parent, so she let Julia and her husband Hugh raise him. After Kate's death, Julia (who is also a recovering alcoholic and former recreational drug user) struggles with relapse while trying to grieve her sister. The not knowing what actually happened to her is what challenges Julia the most, so she decides to investigate the online dating websites Kate used.
Which is basically like falling through the rabbit hole.
Julia meets Lukas, and what started as an investigation turns into an illicit affair she's not sure she wants, but she also knows she really does. Lukas is a promise of everything she is lacking with Hugh. But what begins as a casual affair quickly turns into an absolute nightmare, where her two lives start blending and Julia loses control all together.
Absolutely fast paced, you don't know who is really who, and you are so frustrated with Julia who is making absolutely horrible decisions time after time. She's selfish, for sure, and she doesn't see her family spiraling out of control at the same time her relationship with Lukas is. I absolutely love this author because you never know what to expect and the story is always twisted in the best possible way.
It's gripping, it will have you at the edge of your seat, and when you find out who is who, and who did it?
Wow.
I absolutely loved this book and could not put it down. Another home run by S. J. Watson, and I am anxiously awaiting another book from this author. S. J. Watson has a
website
,
Facebook
, and
Twitter
that you follow.
Second Life
can also be purchased on
Amazon
as well as
Barnes & Noble
.