Last week I talked about The Bookworm Box monthly subscription (click
HERE
if you missed that), and one of the books I received in my box was this one. The greatness of the book is probably what's going to keep my subscription going.
The Deal (Off-Campus Book One) - Elle Kennedy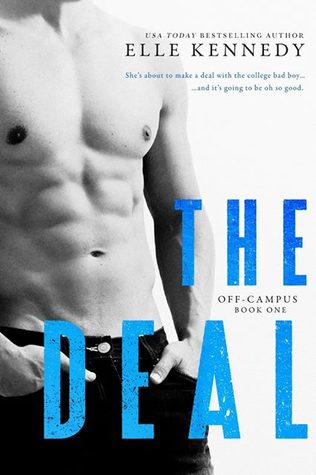 She's about to make a deal with the college bad boy...
Hannah Wells has finally found someone who turns her on. But while she might be confident in every other area of her life, she's carting around a full set of baggage when it comes to sex and seduction. If she wants to get her crush's attention, she'll have to step out of her comfort zone and make him take notice... even if it means tutoring the annoying, childish, cocky captain of the hockey team in exchange for a pretend date.
...and it's going to be oh so good.
All Garrett Graham has ever wanted is to play professional hockey after graduation, but his plummeting GPA is threatening everything he's worked so hard for. If helping a sarcastic brunette make another guy jealous will help him secure his position on the team, he's all for it. But when one unexpected kiss leads to the wildest sex of both their lives, it doesn't take long for Garrett to realize that pretend isn't going to cut it. Now he just has to convince Hannah that the man she wants looks a lot like him.
***
I have to be honest, I wasn't sure how this was going to be. Was it going to be just a regular cocky jock paired with a really stupid nerd, and they'd have sex and all would be swell? Turns out, that's only partly true and it's a rarity coming from me, but none of these characters annoyed me.
I know. Take that all in, folks. I think we can count on one hand how many times that's happened in the last year.
It's true! I really loved Hannah. Sure, she has some serious issues related to a high school trauma, but she's not the "my life is totally ruined and nobody could ever love me" girl. She's practical, she knows what the recovery is like and while she still has some hang ups (rightfully so), so knows that she has to work through them and she makes an active effort to do that. Then we have Garrett, who comes off initially as the dumb jock (literally) and you want to hate him because we all know the dumb jock from some point in our life who just has it all and nobody knows why. Thankfully, Garrett isn't this way once you get to know him. He's ambitious, he has goals, he also has a traumatic past but he genuinely is a great guy.
And I love Hannah and Garrett together SO MUCH. The book starts as him begging her to tutor him after he fails a crucial test in one of their joint classes. She is reluctant because she knows what's she heard about him and has zero time. Ultimately, she agrees because he makes her an offer she can't refuse. While tutoring, they get to know each other more and it becomes a case of friendship maybe turning into something more.
It also has a heavy hockey theme to it, which I love because I love hockey, so YES. Yes to all of this. It's a steamy book, with college age characters, but it's also a really adorable love story. I love Elle Kennedy's writing style, she's funny and she adds just the right amount of humor in all of the right places. I absolutely loved this book and I'm fully on board with the rest of this series!
I highly suggest you pick this one up at either
Barnes & Noble
or
Amazon
. I am absolutely ordering Elle's other books soon and I'm so excited about that. The Bookworm Box did not fail with this book selection at all!