YOU GUYS. It has been
so long
that I have read a thriller that had me staying up to finish it, despite being utterly exhausted. This book did that.
Pretty Girls - Karin Slaughter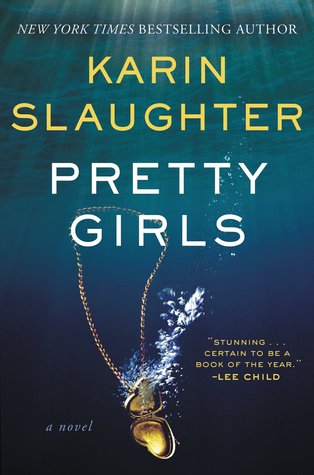 #1 internationally bestselling author Karin Slaughter returns with a sophisticated and chilling psychological thriller of dangerous secrets, cold vengeance, and unexpected absolution, in which two estranged sisters must come together to find truth about two harrowing tragedies, twenty years apart, that devastate their lives.
Sisters. Strangers. Survivors.
More than twenty years ago, Claire and Lydia's teenaged sister Julia vanished without a trace. The two women have not spoken since, and now their lives could not be more different. Claire is the glamorous trophy wife of an Atlanta millionaire. Lydia, a single mother, dates an ex-con and struggles to make ends meet. But neither has recovered from the horror and heartbreak of their shared loss—a devastating wound that's cruelly ripped open when Claire's husband is killed.
The disappearance of a teenage girl and the murder of a middle-aged man, almost a quarter-century apart: what could connect them? Forming a wary truce, the surviving sisters look to the past to find the truth, unearthing the secrets that destroyed their family all those years ago . . . and uncovering the possibility of redemption, and revenge, where they least expect it.
Powerful, poignant, and utterly gripping, packed with indelible characters and unforgettable twists, Pretty Girls is a masterful thriller from one of the finest suspense writers working today.
Full disclosure, I haven't read anything by Karin Slaughter before this book so I wasn't sure what kind of writing I was getting into. But this book..... SO DAMN GOOD. It started off a little shaky with what turns out to be letters written by the girls' father and I wasn't sure how I felt about that but then we're immediately introduced to Claire, the youngest of the three girls, and her husband Paul. And I immediately liked them both but holy hell, what a story we were going to go on.
Basically it is the story of Julia, who goes missing in March, 1991. Her family fractures in different ways- mother goes through an alcoholic, depressive phase. Father is the vigilante detective, trying to figure it out only to kill himself in the end. We have Lydia who makes a series of terrible choices, primarily becoming a drug addict and never really being able to form relationships. Then we have Claire, who is like an emotional chameleon in a way. She does everything she needs to, but never excels enough to show up on anyone's radar, except for Paul's. Paul is a bit of a nerd and you can tell he really loves Claire. But almost immediately, Claire suffers unspeakable loss and through a series of scary, confusing things, she reaches out to long lost sister Lydia to help her. Together they try to piece together the things Claire finds in the wake of tragedy and when the whole ball of yarn is unraveled... holy hell. I mean, there really is no other way to express what I was feeling once everything clicked into place.
From the writing, the story telling, the way the story weaves in and out- excellent, stunning thriller. I am absolutely floored by this book and it makes me eager to pick up anything and everything by Karin Slaughter!
You need to immediately pick this book up, you absolutely will not be disappointed (
Amazon
/
Barnes & Noble
).