I'm just saying, with a title like that, how could you not pick this book up?
Almost True Confessions - Jane O'Connor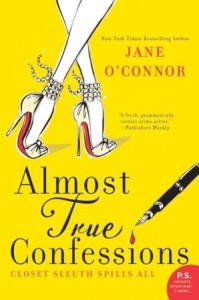 This comic mystery set in the elite zip codes of Manhattan will leave you breathless . . . literally
What could be more fun for a freelance copy editor than work- ing on a juicy tell-all about one of Manhattan's most enigmatic society doyennes? But when Miranda "Rannie" Bookman arrives at Ret Sullivan's tony Upper East Side apartment, she finds more than the final draft of the reclusive author's manuscript waiting for her—there's also the half-naked body of Ret herself, tied to her bed and strangled with an Hermès scarf.
Was this merely a case, as the police believe, of rough sex that got a little too rough? Or was Ret murdered because someone wanted to make absolutely sure she didn't meet her deadline? Once again, Rannie must prove that her mind is just as sharp as her Col-Erase blue pencils—or risk getting rubbed out too.
If ever there was a character that I wish I could be, it would be Rannie Bookman. Mostly because I love the fact she is a copy editor, even if it is freelance. Here's a full confession: when I was in high school I adored English and I really lived for grammar. I wanted to go to college to eventually work in a publishing house. I would have been a receptionist, I didn't even care. I do live Simon & Schuster (featured in this book), but Harper Collins would have been my dream, I think. I am that dork that would like to visit this building if ever I were in town on vacation. Monuments? Who cares. Show me to the publishing house! Or the library. I love libraries too. Oh yes, and book stores.
*swoon*
Anyways.
Let's talk about the book. First off, loved it. I loved how Rannie is just a normal gal, trying to get by freelancing while raising her children (only one of whom is still at home), trying to figure out her love life and whether Tim is it or not, and then oh yes, she finds dead bodies. She is unwittingly thrust into a really convoluted murder mystery where things feel connected but you can't quite figure out how or why. So Rannie does some digging and can't help but try to figure it all out. Because after all, if it is all connected- she's the next peg to knock off, so she's trying to figure it out because she dies a terrible death like Ret or the others. Yes, more people die but I cannot tell you who because that will ruin it. I swearsies.
The book is what I would call suspenseful chick lit. It's everything you want out of a chick lit, but you have the murder mystery. You also have a little romance drama, a little family drama, all rolled into one making it a book you will have a hard time putting down and you will ultimately enjoy. And I will say, did not see the ending. Didn't see it. I kind of thought two people were involved but when one died I had NO idea what was going on. Loved it. I really enjoyed this author too. For a story that could easily have been dark, enough humor was written throughout so it feels like a fun, light read.
Totally worth picking up for yourself OR for your friends as a Christmas gift. Oh you know I went there.