I just knew that when I signed up for this book that it was going to be good, but I had no idea it would
that
good. It's good in the "this will mess you up" kind of way because you can't even imagine a mother being this way. I couldn't put this one down because it's
that
screwed up. Even more amazing? It's a freaking DEBUT. A debut, people. That means if Koren is this good now? Wait until a few books in. GIDDY. That's how I feel.
Mother, Mother - Koren Zailckas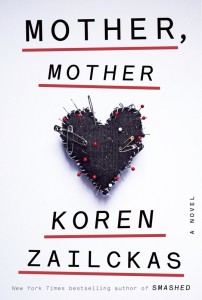 In MOTHER, MOTHER we meet the Hursts: William, a twelve-year-old autistic boy, who wants nothing more than to please his parents but can't seem to figure out how; Violet, a rebellious teenager whose experiments with hallucinogenic drugs have just landed her in a mental ward; Douglas, their father who spends too much time at the office and the remaining hours with a bottle of scotch; and Josephine, whose subtle manipulations are slowly but steadily driving her family to the brink of disaster. And key to uncovering Josephine's motives is Rose, the daughter who got away, but whose presence is still keenly felt, and whose fate is mysteriously unknown.
While authors get their inspiration from many places, Koren didn't need to look further than her own childhood when she decided to tackle the topic of a dysfunctional family. Growing up, several members of her family showed traits and characteristics of Narcissistic Personality Disorder, including her own mother. She decided to write MOTHER, MOTHER in part to challenge the assumption that all mothers are compassionate and kind. Deeply personal, Koren's first foray into fiction showcases her brilliant, firecracker prose, a page-turning plot, and an unmistakable voice.
Full of wise and witty observations, and a mounting sense of dread,
MOTHER, MOTHER
is an astonishing debut.
OK, so this book bounces between the Hurst children that are essentially left, Violet and William and their relationship to their mother and father, and then everyone wondering about what really happened to Rose. Basically, their mother Josephine is very Joan Crawford. She's the perfect, well put together mom on the outside, but inside family walls she's a very over bearing, passive aggressive, narcissistic woman who makes everyone's life a living hell. Rose has seemingly run away which leaves Josephine fit to be tied. Douglas (the dad) is an alcoholic who instead of recognizing the damage Josephine does to the kids, he checks out and drinks himself into a stupor because he can't handle it. Violet is the classic middle child who can't quite live up to Rose's greatness, and she doesn't have the autism/epilepsy problems her brother Will has. Then you have Will, socially awkward, maybe ill, very much a kiss ass to his mother. He's that little boy that grows up to have mommy issues and wears his mother's underwear when she dies.
I mean, that's not mentioned in the book, but I've watched enough Lifetime movies to know that's what happens.
So after a tumultuous night that Violet doesn't totally remember, she ends up in a psych ward after being told she assaulted her brother with a knife and insisting she say her sister Rose in the hallway. Violet is sure of two things: she didn't hurt her brother and she definitely saw Rose.
What is amazing about this story is just how screwed up Josephine is. She tells each member of the family conflicting things but can maintain a lie like nobody else. The horribly cruel things you find out that she did to Rose? Ugh. So each person is trying to piece together an impossible puzzle because nobody has the same pieces. Make sense? And poor Violet, she just wants to figure it out and when she suddenly starts receiving letters from Rose, she's skeptical and hesitant, but she also sees a way out.
Or is it?
By the end of this book I was so emotionally invested, and rightfully scared, for all of these kids. I stayed up until 12:30 last night finishing this book because it's THAT GOOD. Seriously. If you need a book for fall, buy this one. If you need a book club recommendation, use this one. It's so stinking good. This is the kind of book you just consume and it consumes you because you just feel so bad for Violet, and kind of scared for Will because he's clueless and just a lost little boy, and you're mad at Douglas for not having an adequate pair of balls, and you wish there were special places for people like Josephine. And what kills you, just totally kills you, is that you probably know a mom like this. So perfect to everyone else but an absolute horror to her family. You look around to the families who have children with issues like these and it makes you wonder- is there mother like this? Probably. It's so sad. But there's a line in the book that basically says that just because you birth a child, doesn't make you a mother. And that's so true. I really don't believe in anything like mothering instinct, because if it was true we'd all have it. I've met enough women who shouldn't be mothers at all yet they have a gaggle of kids and I think wow- those poor kids.
So yes. Read this book. You will love it and it will horrify you, but you'll still love it. The best part is that I have a copy I can give away! To you! (US/Canada only)
Leave a comment on this post with your email address and I'll draw a winner on Friday October 4. Good luck lambies!