Book review time! I am actually in a major crunch and have LOTS of really great books coming up, which is totally perfect for you as you plan your summer reading lists, right?
Of course I'm right.
Real Happy Family - Caeli Wolfson Widger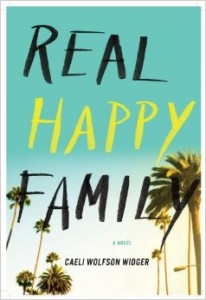 Part-time actress, full-time party girl Lorelei Branch isn't famous yet, but she's perfected a Hollywood lifestyle full of clubbing, fashion, and the latest juice cleanse. When Robin, her sister-in-law and agent, throws a plum job her way, Lorelei jumps at the chance and auditions to be the new girl on television's hottest reality show,
Flo's Studio
. Enter Colleen, Lorelei's pill-popping mother, who wants nothing more than to see her daughter win the fame and glory she never had a chance to pursue herself. But Lorelei's dream of becoming the next reality star is dashed when she loses the spot on
Flo's Studio
to a stunning African woman. In an attempt to defend her daughter against what she calls a rigged contest, Colleen goes ballistic and delivers a racist rant on live television, sparking a national media frenzy. Lorelei flees the limelight, humiliated and broke, with her slacker boyfriend Don and heads for Reno where she begins to self-destruct.
Meanwhile, the rest of the Branch family starts to come apart at the seams. Colleen and her husband, Carl, are quietly drifting apart. Darren, Lorelei's older half-brother, is stuck in Florida working on a contentious film set while his wife, Robin, continues the tedious regimen of fertility drugs meant to help them conceive a child. Desperate to bring the family together again and make things right, Colleen hatches a plan to stage an intervention for Lorelei on the reality show
Real Happy Family
. Soon the entire Branch family is entangled in a mission to bring the prodigal daughter back into the fold.
Will Lorelei ever forgive Colleen? Will
Real Happy Family
air their most sensational intervention yet? All roads lead to a seedy Reno hotel room, where a reality TV crew is waiting.
Right off the bat this reminded me of Lindsay Lohan and her new show on Oprah's network. You have Lorelei who maybe has all of this potential to be an actress but she never really took off and a really over bearing, embarrassing, know it all mother, Colleen. And Colleen basically wants to live vicariously through her daughter and we find out that it's mostly because she got pregnant with Lorelei as an accident and her dreams were dashed. Pretty standard story line for this kind of thing. Hell, half the reality shows on TV are based on this.
But while Lorelei is off with her loser boyfriend Dan doing drugs and trying to ruin her life systematically and on her way to Reno, the rest of the family is a hot mess. Carl, Colleen's husband, has checked out. The step brother (who is married to Lorelei's agent) is being an asshole doing his film thing while Robin is sitting at home wallowing in her dreams of having a baby.
So naturally, let's pull the entire family together for an intervention reality show and repair it all. And as terrible of a plan as this is, there is a good ending but tons of bumps, some frank discussions, some really awful self realizations and you know if this were a real show, you'd all be tuning in and it'd likely be on VH1. And don't get me wrong, I absolutely adore VH1 reality TV. I cannot get enough and I'm beyond the point at which you'd naturally feel some shame about this.
Overall? It's decent. It's not the best story, if you keep up with celebrity news and trashy reality TV you can basically see the ending of this one coming. I will say that though it's a good ending, it's kind of too nice? I mean, for a book delving into serious drug use and a lot of blurring of boundaries I didn't expect it to be so clean. I have a LOT of great things about the writing style because even though I wasn't fully loving this enough to give 4 or 5 stars, I couldn't put it down and before I knew it, I had gotten through half of the book in one sitting. So, kudos for that.
The super cool thing is that one of you are eligible to win a copy! WOOT! US/Canada only, and I will draw a winner on Monday, March 24. Leave a comment on here (include your email address so I can contact you). Be sure to follow me on Bloglovin (see button below) and as a bonus entry- follow me on Goodreads
HERE
.