So, this is book three of a major blog tour for Nikki Gemmell that I have read. I wasn't overly impressed with the other two, but this one... this one was a bit more interesting.
I Take You - Nikki Gemmell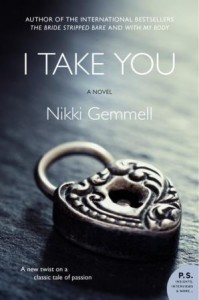 From internationally bestselling author Nikki Gemmell comes a tantalizing story of love within marriage—and alongside it.
Under her Chanel suit and designer lingerie, Connie Carven is no longer the typical banker's wife. When Cliff's horrible skiing accident shifts the balance of their relationship, Connie becomes a willing submissive to her husband's every desire. Cliff is eager to explore new, and troubling, avenues of passion. Connie, ever the dutiful wife, follows wherever he leads. While at first she enjoys a perverse sense of freedom within the ever-tightening bonds of her marriage, Cliff's dark desires soon consume her entirely. She finds herself surrendering to an act that will forever remind her that she belongs to her husband alone—to be unlocked only by him, whenever he pleases.
But it is also this act that awakens Connie from the numbness that has taken over her life. And when she encounters someone new in the communal garden of her Notting Hill home, she discovers the thrill of true intimacy . . . and the price of risking everything for it.
The author of the bestselling phenomenon The Bride Stripped Bare and the exquisite With My Body, Nikki Gemmell brings erotic writing into the twenty-first century. In I Take You she looks to the classic Lady Chatterley's Lover for inspiration, reimagining D. H. Lawrence's celebrated tale as a brutally honest and deeply sensual modern love story.
I'm going to call this.. the anti-Fifty Shades of Grey. I also don't even think this can be called erotica because while there is some sex, not nearly as much as you would get in a regular romance novel even, it isn't really even the theme of the book. If I had to come up with a generalized theme it would be how relationships are give and take, compromise, and nobody should ever feel obligated.
Full disclosure: this book has a fairly graphic scene in chapter nine. You know by now that there isn't much that will make me squirm in a book. But there are piercings, essentially done against her will, and a padlock acting as a chastity belt almost. Let that sink in- a padlock on your vaginal opening.
Don't worry, it took a full night to get the chills out of my system and even now, thinking about it makes me want to vomit. Because you know what I had to do, right? I had to search Google images because I haven't even seen something like this and I'm a visual person. And oh lord- the horrors I saw. Folks, you can't un-see anything like that so just take my word for it, it's not natural.
Anyways.
So the story is about Connie who is married to Cliff. Cliff and Connie aren't really compatible sexually, never have been, yet she loves him and she aims to please. So when Cliff has a skiing accident that leaves him paralyzed and unable to perform, they "compromise" on other things. What ends up happening is a really odd BDSM relationship Connie doesn't really want, but it's the only way she ends up being sexually satisfied so she complies. Until the piercing. The piercing is basically the straw that broke the camel's back.
Connie begins to drift away and contemplate a life without Cliff. He's rich and she is not, so she's stuck in the predicament that people judge her for being selfish and divorcing her poor, disabled husband, even though he's a bit of an asshole.
But in walks hunky gardener Mel with a lifetime of baggage. And hot sex, complicated feelings, drama, and angst. Because you see, I really don't think Mel likes Connie. He sees her as a stuck up, kept woman even though he has no issues banging her in the garden. It's like he's trying to devalue her almost while at the same time she's falling in lust with him. I also don't think she really loves him either, she sees him as a ticket out of her personal hell. You're left hoping she gets the hell out, but at the same time you just want to say, do it on your own- stop depending on a damn man you loser.
If you are looking for a really fast read, I really do recommend this only because you'll whip through it and it is a pretty good read. Her chapters are short so you could easily pop this in your purse and read a chapter or two while waiting around somewhere.