You guys. If you haven't started reading Jay Crownover's
Marked Men
series, you are a loser and I don't know if we can even be friends. Get on it.
Rome - Jay Crownover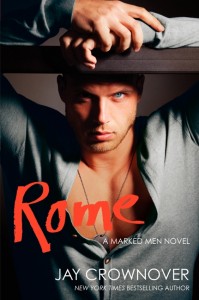 Sometimes the wrong choice can be just right . . .
Fun and fearless, Cora Lewis knows how to keep her tattooed "bad boy" friends at the Marked in line. But beneath all that flash and sass is a broken heart. Cora won't let herself get burned again. She's waiting to fall in love with the perfect man—a baggage-free, drama-free guy ready for commitment. Then she meets Rome Archer.
Rome Archer is as far from perfect as a man can be. He's stubborn, rigid, and bossy. And he's returned from his final tour of duty more than a little broken. Rome's used to filling many roles: big brother, doting son, supersoldier—but none of those fit anymore. Now he's just a man trying to figure out what to do with the rest of his life while keeping the dark demons of war and loss at bay. He would have been glad to suffer through it alone, until Cora comes sweeping into his life and becomes a blinding flash of color in a sea of gray. Perfect may not be in the cards, but perfectly imperfect could just last forever . . .
So this is the third book in the series, but you really don't have to read the other two to fully understand this one. I'm still recommending you read the other two because they are great. Also, can I just say I'm in love that Nash's story is next and I am putting in my request for Rowdy and Asa's stories? I feel like Jay and I can come to agreement that this should happen.
To me, this is is maybe my favorite story of the three so far because at no point did I want to smack Cora. Cora has been pretty hurt from a serious relationship where she was cheated on and her fiance basically kicked her to the curb. Because he was a jack weasel. So she has kept herself busy by Facebook stalking him and essentially taking car of the boys in the tattoo shop she manages and helping those boys get a grip on reality and go after the women they love. Go Cora!
But then enter Rome, Rule's older brother, battle worn and clearly suffering from PTSD from his military war tours. He kind of adores the fact that Cora is sassy and can tell a boy when to shut up and that's what he needs. She kind of loves that he sometimes leaves her speechless and it doesn't hurt that he's super hot.
So, like any red blooded American girl would do, she basically had sex with him. A lot. But lots of sex and no protection means... unplanned baby! In the middle of all of this, Rome struggles with PTSD and finds help in Brite, the owner of a biker bar full of veterans. Except Rome inadvertently pisses the wrong one off and danger happens and I can't really tell you any more than that other than it's good and you'll like it.
I kind of loved this book. Sure, Cora is kind of a mess who doesn't understand that just because you encounter one jack weasel, doesn't mean they all are, and is terrified to let Rome all the way in. Even when she is knocked up, I can understand her reluctance. She's wrong of course, but still, I get it. And I loved Rome. He's genuine and I never doubted for a second his feelings for Cora. I think that despite being a mess from war, he's actually very clear headed about life and what he wants, it just takes a few wake up calls to make it obvious for him.
Overall? Love. Love how their story isn't 100% finished, I love how at the end Nash's story is introduced. I really appreciate how it's not so cookie cutter. Jay is really a good writer and I am excited to see this continue. You definitely need this series in your life.