LAMBS! GET OUT AND BUY THIS BOOK BECAUSE I SAID SO.
And before you're like, "Whoa, Sara- no need to scream at me, dang!", shut up. If we were at lunch and I was telling you about this book I would probably be loud, bounce in my seat and use vibrant hand gestures.
Forgiving Lies - Molly McAdams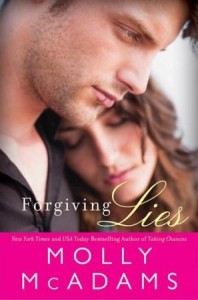 The fabulous New York Times and USA Today bestselling New Adult author returns with a sizzling, funny, and deeply emotional tale of passion and secrets, deception and forgiveness
A matter of secrets . . .
Undercover cop Logan "Kash" Ryan can't afford a distraction like his new neighbor Rachel Masters, even if she's the most beautiful woman he's ever seen. To catch a serial killer, he needs to stay focused, yet all he can think about is the feisty, long-legged coed whose guarded nature intrigues him.
A matter of lies . . .
Deceived and hurt before, Rachel would rather be a single, crazy cat lady than trust another guy, especially a gorgeous, tattooed bad boy with a Harley, like Kash. But when his liquid-steel eyes meet hers, it takes all of Rachel's willpower to stop herself from exploring his hot body with her own.
A matter of love . . .
As much as they try to keep it platonic, the friction between them sparks an irresistible heat that soon consumes them. Can Kash keep Rachel's heart and her life safe even as he risks his own? Will she be able to forgive his lies . . . or will she run when she discovers the dangerous truth?
Let me just get this out there, I love you, Molly. You and me.... we could be friends. I was a Molly virgin but I am not anymore, I am a Molly diehard. Are there fan club shirts? Should I be sporting a shirt? I feel like I'm unprepared and I am sorry for that. But seriously, lambs. LOVED THIS BOOK. (You can't see it, but I'm bouncing in my seat right now).
Anyways. So this book is just like your typical "new adult" which I think what we're calling romance/thrillers now? Whatever, it's got a thrill to it and it has a romance. You have Rachel, who at the age of 21 she's lost her parents and has clung to her best friend Candice and gone to college. She turns down but begrudgingly decides to go on a date with the guy who she adored as a child and it turns out, he's kind of a psycho. Like right from the word go. Her best friend is kind of a clueless bitch to her when she needs her the most, after a particularly traumatizing event at the hands of this would be Lothario.
Enter Kash and Mason. Both are undercover police officers sent to Texas to get away from a mess in Florida but also to work a case solving the murders of the Carnation Killer. They end up being Rachel and Candice's neighbors and while Candice and Mason hook up, Kash and Rachel fall in love.
Then a bunch of CRAZY happens and you know there is betrayal and returned love. Because that's how every romance goes and I love it. But the epilogue? Can we just talk about the epilogue being maybe the best one ever? Well maybe not best ever but it's certainly in the top 10 of making you both saying, "OHMYFUCKINGGOD, WHAT IS HAPPENING?" and "WHERE IS BOOK TWO? Good god, where is book two????". *sigh* There is no book two yet but it had better be coming because what the hell kind of ending is that? And if it hasn't been written yet, I want Candice and Mason to get together because all would be right in my world if that happened. It just would, and if anyone could make that happen, Molly McAdams can. And should. I cannot stress that enough.
So yes. Get this book, you will not be disappointed. Not at all. Visit Molly's
blog
,
website
,
Facebook
and
Twitter
too. And if you're like, "Oh, what should I get Sara for Christmas?", um how about every Molly McAdams book, please? Thanks.