If ever there was a book that most of you could relate to, it would be this one.
Maggie's Turn - Deanna Lynn Sletten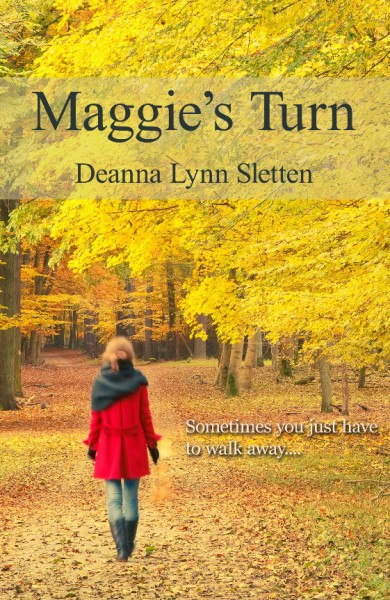 Maggie Harrison is a devoted wife and mother, always putting the needs of her family ahead of her own. Then, one day, without planning to, she drives away, leaving behind an indifferent husband and two sulking teenagers. Maggie goes off on a quest of self-exploration, enjoying adventures, meeting new people, and rediscovering her passions. For the first time in years, she dreams about what she wants out of life, and she realizes that her deteriorating marriage can no longer continue as it is. Can she and Andrew repair their floundering relationship, or is their marriage over?
Andrew Harrison likes his life to be in perfect order. He enjoys his work and status in the community, leaving Maggie to take care of everything at home. He knows his marriage isn't perfect, but after twenty-three years and two kids, whose marriage is? When Maggie leaves without a word, he is forced to start paying more attention to his home life and his almost grown children, and he begins to do a little self-exploration of his own. Slowly, he begins to understand what drove Maggie away, and how important she is in his life. Is it too late to resolve their differences and save their marriage? Or will Andrew lose Maggie forever?
I can tell you right now there have been times on my drive home that I've contemplated on just passing my street and keep going. Fortunately for my family, I'm perpetually broke so I'd maybe make a few miles and then be stuck and need a tow that I cannot afford because you know my ass would run out of gas.
But that's exactly what Maggie does. In a marriage she isn't sure that will make it, she's unappreciated, she's stressed out, and she's fed up. Without any planning, she decides to not come home after dropping her daughter of for school. Instead, she travels west and with her camera in hand, she starts a journey that is more than just about her- it's about her marriage, her children, the family unit, and her happiness. She meets people along the way that encourage her to do what she's doing. Maggie is hesitant but ultimately continues on in the hopes of finding the person she once was.
At the same time, her husband Andrew is left picking up the pieces once Maggie is gone. Andrew resents Maggie and feels like this is coming from left field and ignores all of the warning signs. Andrew made a poor choice that put the marriage in jeopardy and doesn't understand how Maggie can't just get over it. In that process, he discovers how out of touch he has been with Maggie as well as their two children, has no idea how to run a household and gets a trial by fire initiation to everything that Maggie does.
Overall? Good book. I could relate to Maggie and how she feels. Sometimes I wish I had a stash a money where I could just leave it behind for a few weeks and see what Matt thinks about what I do. He'll often remind me I only work part time and he works 70 hours a week. Granted, that's a huge difference but I also do all of the school stuff, kid stuff and most of the house stuff. I'm the one keeping that house running but he doesn't place a value to that. Definitely
check this one out
- you'll enjoy it.