Oh lovies. I cannot even tell you how much I loved my book. Seriously. Just buy it. Right now.
The Color of Light - Helen Maryles Shankman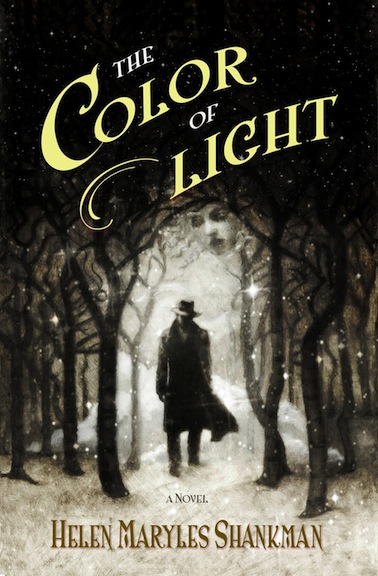 NEW YORK CITY, 1992. At the American Academy of Classical Art, popular opinion has it that the school's handsome and mysterious founder, Raphael Sinclair, is a vampire. It is a rumor Rafe does nothing to dispel.
Scholarship student Tessa Moss has long dreamed of the chance to study at Rafe's Academy. But she is floundering amidst the ups and downs of a relationship with egotistical art star Lucian Swain.
Then, one of Tessa's sketches catches Rafe's attention: a drawing of a young woman in 1930s clothing who is covering the eyes of a child. The suitcase at her feet says Wizotsky. Sofia Wizotsky, the love of Rafe's life, was lost during the Holocaust.
Or was she? Rafe suspects Tessa may be the key to discovering what really happened.
As Rafe finds excuses to interact with Tessa, they cannot deny their growing attraction to one another. It is an attraction forbidden by the Academy Board and disapproved of by anyone familiar with Rafe's playboy reputation and Tessa's softhearted innocence.
But Tessa senses the truth: despite his wealth, his women, and his townhouse filled with rare and beautiful treasures, Rafe is a haunted man…for reasons that have nothing to do with the rumors they whisper about him at school.
Intensely romantic and deeply moving, The Color of Light blends fact and fantasy in an unforgettable tale of art and passion, love and war, guilt and forgiveness, spanning the New York art scene, high-fashion magazine publishing, the glittering café society of pre-World War II Paris, and the evil stalking the back roads of Nazi-occupied Europe.
What can I say? I agreed to review this book solely on the cover. Maybe I shouldn't say that because you shouldn't judge a book by its cover but I did because it just pulled at me. Something about this cover moves me. It's haunting, it's lonely, it's romantic, it's wistful, it makes your heart feel.
Then you read it. I cannot even tell you how much I loved this book. My heart hurts for Rafe. Something about him just pulls at me and it's not his lonely existence as a vampire. It's something else about him and if this were real, I'd be pulled by him. And isn't that what you want for a male lead in a book?
Admittedly, I don't normally like historical books but this one is lovely. It's so well written, it's so sad and you feel like these people are your family. And let's talk about the art aspect- I don't even appreciate art. I mean, who cares? But I'm reading this book and I find myself getting passionate over a classical art school versus modern crap. I literally couldn't put this book down. This book is almost 600 pages but it could have been a 1000 and I wouldn't have stopped.
So while we have the art school aspect, and we have the WWII flashbacks and reading about people being massacred, but we have a love story. An incredibly moving and gorgeous love story. You feel the angst, you feel the swell, you feel it all. And Rafe is a vampire. Don't roll your eyes at me- you will love this. He isn't your sparkly vampire, he is your classical vampire. He's what they should be in literature. The realistic fear he puts in others is how it should be. The romance of a vampire is here. It's everything you want.
I am not even kidding- this book is lovely. I cannot say that enough because that's the adjective that keeps coming to mind when I think of it. I was so worried about the ending but Helen nailed it. She really ended it on such a romantic, fabulous note that you just find yourself hugging the book while simultaneously wishing you had a Rafe. A guy who is so passionate and in love with you that you can barely catch your breathe. I just want Matt to be Rafe. *sigh* I want a guy who will look at me across the room and make me want to drop my panties. I want to feel that electricity by just a squeeze of my fingers as he walks by. I want people to feel that magnetic presence. Can I just add? Debut novel. This is a debut novel and I can't even handle it. She's so good that I can't imagine her being even better. No pressure, Helen!
Bottom line, you need this book in your life.
Good news, I have ONE copy to give away. US/Canada only, no PO Boxes, sign yourself up. I will draw a winner on Friday, November 29. Leave a comment below WITH your email address. Share this post on your social media and get yourself an extra entry (leave me the link).
Check out Helen's
website
to get your fill in the mean time!