Sometimes being a book reviewer is really difficult. On one hand, you will inevitably get really terrible books and you have to write about them, being fully honest on what you didn't like, but word it carefully so that a person wouldn't automatically dismiss it, maybe try it for themselves and form their own opinion. On the other hand, sometimes you get books that are so incredibly great that you aren't sure you can even make a convincing argument why a person should read this book other than, "it's so great and it'll
move
you". Because ultimately, as a book reviewer, you hope that what you write convinces someone to go purchase the book, get it from the library, do something with it beyond adding it the to "to-read" list we all have and likely will never finish in our lifetime. Because some books? Some books are worth bumping to the top.
This is absolutely one of them.
Wildalone - Krassi Zourkova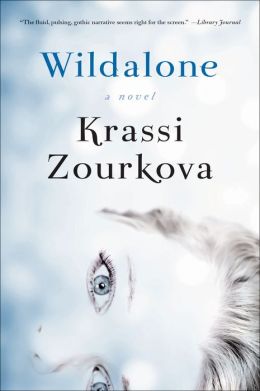 In this darkly imaginative debut novel full of myth, magic, romance, and mystery, a Princeton freshman is drawn into a love triangle with two enigmatic brothers and discovers terrifying secrets about her family and herself—a bewitching blend of

Twilight

,

The Secret History

,

Jane Eyre

, and

A Discovery of Witches
For every world, there is an underworld.
Arriving at Princeton for her freshman year, Thea Slavin finds herself alone, a stranger in a strange land. Away from her family and her Eastern European homeland for the first time, she struggles to adapt to unfamiliar American ways and the challenges of college life—including a young man whose brooding good looks and murky past intrigue her. Drawn to the elusive Rhys and his equally handsome and mysterious brother, Jake, she ventures into a sensual mythic underworld as irresistible as it is dangerous.
I feel so
unequipped
to give this a worthy review, but I'm going to really try. After reading the book it really is a mix of Twilight (Jake and Rhys both vying for Thea is very much like Edward and Jacob), it's so very much like Discovery of Witches (lots of Greek mythology, art history, magic, witchery, etc), but I also felt it was a little like Angelology (with Thea uncovering a mystery in her past and the ending... the ending is so much like the ending of Angelology that I had a little gasp). This book is the absolute perfect blend of thriller, mystery, paranormal, romance, magic and even a little chick lit because you can't help but be endeared by Thea, a Bulgarian trying to make it in America and understand culture here.
But what sets this book apart is that no matter how you feel about Greek mythology, whether you have no idea about much of it and could care less (me), or you are an avid fan, you find yourself interested and learning. Your heart hurts for Thea who lost her sister (literally) at Princeton 15 years earlier under mysterious circumstances. She died and her body was found... but then disappeared from the funeral home and nobody has any clue why or where it went. And that's not good enough for Thea, who can't help but feel like there was far more to her sister's mystery than what meets the eye. It doesn't help that seemingly everyone who knew her sister Elza speaks to Thea in riddles and she's having to figure it all out on her own. It feels like her death is somehow connected to strange rituals thought long forgotten but that surely doesn't make sense, does it?
Enter Rhys. Mysterious, definitely brooding, enigmatic, alluring, everything you want in a bad boy. Something is very off with him though Thea can't place it and she's not even sure she wants to because what she does know is that she can't be without him. Thoughts of him consume her and though her friends think he's a bit much, a little over bearing and definitely possessive, she doesn't care. Then she meets Jake, his almost identical looking brother who she finds out is who she thought Rhys was (sounds weird, but I can't explain it further otherwise it ruins a good part of the book for you) and here we begin the battle between brothers. One is the safe choice, one is definitely not but she doesn't know why. She doesn't know the strings that comes with the one brother, until the end, and when she makes a decision- it's almost too late.
Because with every great book comes an ending. And the ending isn't always what it should be. What you want it to be. Angelology is one of my favorite books because I felt all of the torment and the struggle the main character had once she learned what she really was. And she had to make a choice at the end and I don't think she made the right one. Not at all. But in Wildalone, as we're getting to the end, and I feel my heartbreak coming on because one of the brothers loves Thea so much that he is willing to die for her, Thea makes a desperate visit to the Underworld and... we learn so much while she's there. She does as well. We learn how flawed her sister was, how nothing was really as it seemed and.. we cut to her seemingly on her way to a decision. But that's it. So it's almost like... a build your own ending but not really. I don't always say this and I might regret it as I did with Angelology because the sequel to that books was TERRIBLE and made me hate everything I loved about the first one, but I kind of hope Wildalone has a sequel. Just to indulge me, not because one is needed. This is the type of book I don't want to part with the characters, I feel like I know too much of the story and I still want more. Does that make sense? But I'll leave you with this- it is my absolute hope that the unsaid ending is not like Orpheus essentially giving up and letting the maenads kill him because he lost the love of his life, Eurydice. (Which is the Greek myth heavily referenced in this book, so stay with me, I'm not talking crazy.) I hope the brother, the one so madly in love with Thea, doesn't end this way because I don't know if I could bear it. I just couldn't. Because what Thea feels for the safe brother isn't the kind of thing that lasts a lifetime, or even beyond. It's not. It's safe and secure. But the other brother... that's happiness beyond what she could hope for. Even with the strings attached.
And with that, I leave you. Please add this to your to-read list, go and buy the book (
Amazon
or
Barnes & Noble
) and then let me know what you think. I said it last night on Facebook that though this is only January, this is a contender for book of the year for me. I cannot get enough of the writing, the characters, the cover (God this cover is gorgeous and now I want a bouquet of poppies. I need a guy to give me a vase of poppies, and my husband said poppies are stupid.), just the amount of research that goes into putting such a great novel together blows my mind and truly. It's so great. I can't say how great this is enough.