Book review time! Again, I have a
ton
that I am going to be working on because I want to get as many as I can done before Penelope comes.
Because as talented as I am, I don't know how to read with one hand and feed a baby with the other.
Daughter by Jane Shemilt
Jenny is a successful family doctor, the mother of three great teenagers, married to a celebrated neurosurgeon.
But when her youngest child, fifteen-year-old Naomi, doesn't come home after her school play, Jenny's seemingly ideal life begins to crumble. The authorities launch a nationwide search with no success. Naomi has vanished, and her family is broken.
As the months pass, the worst-case scenarios—kidnapping, murder—seem less plausible. The trail has gone cold. Yet for a desperate Jenny, the search has barely begun. More than a year after her daughter's disappearance, she's still digging for answers—and what she finds disturbs her. Everyone she's trusted, everyone she thought she knew, has been keeping secrets, especially Naomi. Piecing together the traces her daughter left behind, Jenny discovers a very different Naomi from the girl she thought she'd raised.
Basically this is the story of Jenny and Ted, busy parents raising three teenagers. One of their teenagers, Naomi, disappears one day and nobody has any idea why she's gone. The family seemingly falls apart because everyone has secrets they've kept from each other and nobody is quite sure how any of that comes together to answer the mystery of Naomi's disappearance.
Right away, this kind of hit home because Jenny tries to be that mom who knows how to do it all, she has a great job, she has a husband who understands the demands of her job because he has an equally stressful job, and her kids are great. All smart, all have several things going for them, very promising futures. Jenny feels like she's done a great job managing it all, but Naomi's disappearance makes it obvious that maybe she hasn't done a good job.
I can't tell you all of the secrets the family holds, because that's the basis of the entire book, but it's kind of heartbreaking. On one hand, Jenny is infuriating. You can tell he's a little overbearing and it drives her kids nuts but on the other hand, she's also a little dismissive? She's got her career and she's trying to balance it all. But the growing distance between Jenny and Naomi is scary. I fear that maybe I'm that mom, would my Olivia drift away like Naomi does in the book?
The story goes back and forth to before Naomi disappeared, the time after she disappeared and a year later. With each time flop you learn more about the family and how incredibly dysfunctional they are. And then I really start to hate Naomi, who isn't very nice to her mom and has no idea what danger she puts herself in. Likewise with Ed, who is so hostile towards his mom I felt terrible for her. It was kind of sad.
But the ending? Just... no. I'm glad we find out what happened with Naomi, but I felt so unsatisfied. I want to shout to the world what the ending is because I felt like we had all of this build up and then.... the ending. It feels like the author was over it. That she had done this superb job with the buildup and the ending just bummed me out. But I'm left hoping that things work out for Jenny. I feel like she lost track of what happiness was and she has to get back to that. That's my hope.
• Print Length: 352 pages
• Publisher: William Morrow Paperbacks (March 3, 2015)
About Jane Shemilt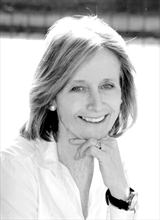 While working full time as a physician, Jane Shemilt received an M.A. in creative writing. She was shortlisted for the Janklow and Nesbit award and the Lucy Cavendish Fiction Prize for The Daughter, her first novel. She and her husband, a professor of neurosurgery, have five children and live in Bristol, England.