GAH! I'm so excited. OK, so I'm a big Laury Falter fan
anyways
, so when an opportunity came up to review her new book I jumped at it, no questions asked. I didn't even look at the book description- I just signed up and was pleasantly surprised that I was about to read my first apocalypse book involving zombies. WIN.
Haven - Laury Falter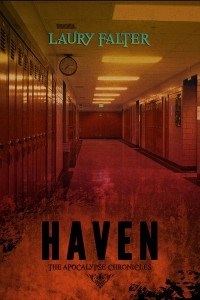 On an ordinary day in early September, Kennedy Shaw leaves for school unaware that within a few minutes the world she knows will be gone – succumbed to an outbreak of epidemic proportions. After finding a safe haven inside the security of her enclosed high school, she learns that four others have survived, one being a bold, mysterious transfer student from Texas whose unruffled demeanor harbors more than a cool interest in her. As they struggle to survive the dead fighting their way inside, will Kennedy discover there is more to life than survival? And will she and the others find a way to live in this terrifying new world?
This is a YA novel and it's about the end of the world because of zombies. You have your super strong female character who can shoot guns and throw Japanese throwing stars (Kennedy), you have the transfer student who is a little bit off but you don't know why (Harrison), and you have a cast of three other students they are essentially trapped inside of their high school with because zombies are eating people right outside. It's probably the worst school day you could have. And then of course, you get a romance story with Kennedy and Harrison which reminded me so much of the movie Warm Bodies which I absolutely loved and I don't care what anyone says.
This is an incredibly fast read- I did this in one evening after dinner and finished up right at bed time. I just really enjoy Laury's books because you get sucked right in. She doesn't add extra fluff, you're trying to figure out what the heck is going on and I appreciate that everything is part of a series. So this book is the first in the Apocalypse Chronicles and I'm already awaiting the next one because there is a HUGE cliff hanger at the end of this one.
You guys know I'm picky about my characters and Laury never disappoints. I loved Kennedy. I thought at first with her being a moody teenager I'd hate her but it turns out I love her. She isn't dramatic- she is very smart, she's intentional, she's thoughtful, and she is very level headed. She isn't the girl that is going to freak out, and she knows exactly the implications of what is happening outside of the doors. She's meticulous and she is able to see things from every angle. She also has dreams that are very much premonitions. At what point will she learn that she can change an outcome by doing the opposite of her dream? I don't know, but I hope she does it in book two considering the cliff hanger at the end of this one.
Then you have Harrison. I kind of adore Harrison. He's terrified of what he is, though he doesn't really know. None of them really understand but they also don't know what it means for the situation outside. Then you have your geeky girl, the athletic boy, and the drama queen thrown in with them and it's like perfect casting to round out the book. You can tell that this was the book that sets everything up in the next ones. You get the basic information of what is happening, you learn the strengths/weaknesses of everyone and you're able to really think about where this could go.
And it's pretty freaking amazing.
Again, I'm such a fan of Laury and if you are looking for something that will suck you in- you need to read her stuff. Truly- I would not steer you wrong. You can buy this for

Kindle

,

Nook

and

everything else

. Laury also has a

website

,

Facebook

, and

Goodreads

.
But one of YOU lucky lambs can win a DIGITAL copy of this book! WOOT. All you need to do is leave a comment on this post and follow me on Bloglovin (see button below) and I'll draw a winner this Friday, December 13. Good luck!