It's crunch time! I've got lots of reviews coming up so expect to see these popping up in your feed the next few weeks!
The Seduction of Miriam Cross - W.A. Tyson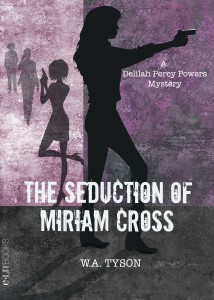 A sordid sex tape.
A venture capital firm.
A secret society of women.
A Catholic nun.
Miriam Cross, author, feminist and philanthropist, disappears from her Philadelphia home. A year later, a lonely recluse named Emily Cray is brutally murdered in her bed in a small Pennsylvania town.
The police discover that Emily Cray and Miriam Cross were one and the same, but if they know who killed Miriam, they're not sharing. Miriam's niece wants answers. She turns to the one woman she knows she can trust – private investigator Delilah Percy Powers.
As Delilah and her staff of female detectives – a militant homemaker, an ex-headmistress and a former stripper – delve into Miriam's life, they become submerged in an underworld of unfathomable cruelty and greed with implications that go far beyond the gruesome death of one woman or the boundaries of one country. Eventually Miriam's fight for justice becomes Delilah's own . . . and Delilah's obsession with finding the truth may prove just as deadly.
You really shouldn't judge a book by its cover because this cover is terrible but this book is really great. I have seen it pegged as a romance/suspense novel and for me, it's not that at all. It's more thriller/suspense because the romance element isn't huge and it's not at all what you expect for romance. So go into it knowing that.
Second, this book was all over the map because whereas I can typically figure out the twists and turns- not at all the case in this one. Well written, complex and complicated, this one was hard to put down. The basics of it is that Miriam gets murdered. She's beheaded, and while that's awful, the entire thing is seemingly being covered up. Enter Delilah and her bizarre crew of private detectives. I can tell this is likely going to turn into a series because each detective is complicated and while you learn a little about them, you're kind of left wanting more. Delilah herself is kind of a mess, what I would call a controlled, refined mess. Instead of grieving the loss of her fiance, she is instead throwing herself totally into her private investigator agency.
The crew of detectives are trying to figure out what really happened with Miriam but none of the puzzle pieces really click together towards the end. And holy buckets- it's kind of a sordid tale. I did like the book, and I found myself enjoying it far later than I should have because I have early days this entire week. My only complaint is that I feel like so much time is spent sorting clues, talking about things, that at the end- I sat there thinking, well duh. All of that, and this is it? I wanted a big bang. There is a bang at the end and people die but I expected it to have more of a punch.
Admittedly, when I got to the end I was exhausted and maybe some of the flair was lost because I could barely stay awake.
With that said, I did like this book. I am excited to see what comes next for Delilah and her crew. Does Anders stay on (you'll have to read to find out who that is), what about Natasha? She seems a bit of a loose canon. I don't know how I feel about Barb/Margot. Maybe if we got more of their story I would be more interested... but maybe that's for the next book?
The good news, as an early Christmas present to yourself, you can enter to win a copy! Leave a comment on this blog post (include your email address) to win! Drawing will be held on Friday, December 20. US/Canada only, please!