HA! Just kidding, I didn't really. I
am
back from vacation, so be prepared to have your blog feed overwhelmed with pictures and stories this week. Just as soon as I can find my camera, I'll get on it.
So I Married a Werewolf - Kristin Miller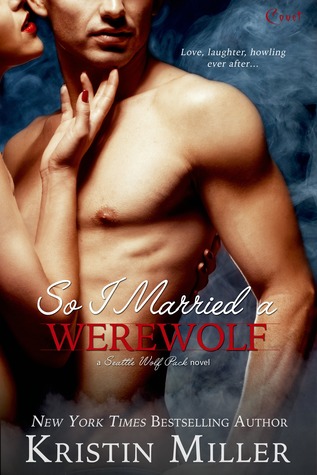 Carter Griffin, enforcing officer for the Seattle Wolf Pack, has a problem. He's been offered the promotion of his dreams…if he can find a wife to prove he's over his playboy ways. But Carter's already walked the matrimonial road and bought the stinkin' T-shirt. Besides, a werewolf only gets one fated mate. Been there, done that.
All werewolf dog trainer Faith Hamilton wants to do is earn enough green stuff to put her younger brother through college. Okay, okay, so she also totally wants Carter, her sexy next-door neighbor, to look at her as more than a friend. It's too bad size 12 and plain isn't his type. At all.
The two friends strike a deal to help one another out. They must face a variety of challenges from a psycho ex-girlfriend to a Yorkie with a shoe fetish...and that pesky problem of only having one-fated mate in a lifetime. Will a relationship ruin their friendship…or spark a love neither anticipated?
Although this is part of a series (it's #3, in fact), you wouldn't know it because it's a stand alone read. It's also surprisingly fast. I was able to finish this in one night while I was sweating like a pig in heat in our camping cabin. I certainly couldn't sleep so I read until my Nook died, which was shortly after I finished this book.
I'm going to be upfront- this book felt rushed. Well, the ending is what felt rushed. I was completely invested. Neither lead character got on my nerves like other books and I was completely rooting for them. Then things go to hell a little and it's like bam, things are resolved and the end. Completely rushed. Like when you get ushered out the door immediately following a holiday dinner. You're done, get out now. I wish the author had spent a little more time with the ending. I wish things between Paisley and Faith weren't so unfinished. Granted, maybe this comes up in a future book, but for the sake of this book when the tension between those two characters is a key thing, having no resolution at all left me feeling unsatisfied. Enough to not read any more of this series? Of course not, it's a solid paranormal romance and you know I'm all over that. The ending between Carter and Faith is everything you want in a romance and honestly, if you aren't rooting for them, there's something really wrong with you. I'm going to give this a 3/5 stars because I liked it. I didn't totally love it, but I certainly didn't hate it and if you are looking for a paranormal romance that doesn't have the sex scenes to make you rush to church, this is your book.
href="http://www.rafflecopter.com/rafl/display/1cb55495416/" 
rel="nofollow">a Rafflecopter giveaway