It's not too often that I get to review a book aimed at late elementary/middle school age group, so I was pretty excited that this new one showed up in the mail! Of course this book is geared towards ages 8-12, where my kids happily land, so we used it as a family read and I've even got a little input from my own children, always a nice bonus!
Curiosity House: The Shrunken Head - Lauren Oliver & H.C. Chester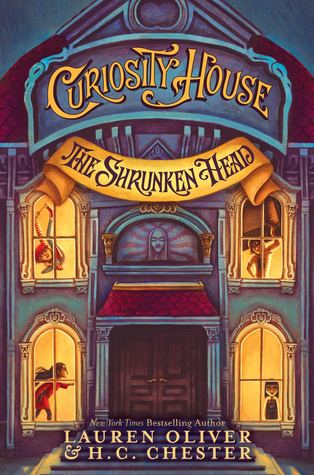 What you will find in this book:
– A rather attractive bearded lady
– Several scandalous murders
– A deliciously disgusting Amazonian shrunken head
– Four extraordinary children with equally extraordinary abilities
– A quite loquacious talking bird
Blessed with extraordinary abilities, orphans Philippa, Sam, and Thomas have grown up happily in Dumfrey's Dime Museum of Freaks, Oddities, and Wonders. But when a fourth child, Max, a knife-
thrower, joins the group, it sets off an unforgettable chain of events. When the museum's Amazonian shrunken head is stolen, the four are determined to get it back. But their search leads them to a series of murders and an explosive secret about their pasts.
This sensational new series combines the unparalleled storytelling gifts of Lauren Oliver with the rich
knowledge of the notorious relics collector H.C. Chester.
What you will NOT find in this book:
– An accountant named Seymour
– A never-ending line at the post office
– Brussel sprouts (shudder)
– A lecture on finishing all your homework on time
– A sweet, gooey story for nice little girls and boys.
I will say I've read a few YA books from Lauren Oliver and they surely did not disappoint, nor did this one! It's absolutely impressive that an author can switch up her writing based on her audience and there aren't many out there that can do that and do it well. Lauren Oliver is at the top of the class in that subject, easily.
Jackson was totally impressed that this chapter book had pictures. There aren't a ton but the ones that are included just add to the oddity of the book. The author also did a fantastic job at describing not only Dumfrey's Dime Museum of Freaks, Oddities, and Wonders but also the characters. Not joking, but if I saw an ad for this place I would feel compelled to go, it's like a weird road side attraction you want to say you've seen. Olivia was totally engaged in the story and said it reminded her of the show The Haunting Hour we've been watching on Netflix and created by the great R.L. Stine because this is really up in that same genre. The only complaint both kids had was a bit of a cliff hanger at the end and I had to assure them there is likely another book coming so that just means we'll have to keep reading. I was able to figure out who the killer was but they could not, probably because they aren't a seasoned reader like I am.
All of the characters are endearing in personality but what really sets them apart are their "gifts". When Max shows up everything seems to go awry, but the most important incident is when the shrunken head is stolen. It's their newest main attraction and with that gone, money dwindles and their future is at stake. It's not like any of these people can really just get jobs somewhere else, this is their livelihood and their home. So they set off to solve the mystery and along the way see some questionable things and things no child should ever see. The protective parent in me says no thank you to my children reading about corpses. BUT... the child in me says I read R.L. Stine and read all about murdered cheerleaders and bodies that were rotting in the water and I feel like what Lauren Oliver and H.C. Chester give you in this book is nothing compared to that.
If you have a child in the 8-12 range who enjoys a good mystery, they will love this book. Absolutely love it! It doesn't get released until September 29, 2015, but you can pre-order it now on
Amazon
and
Barnes & Noble
. If you loved this review and want to see what I'm reading next, follow me on Bloglovin' and stay tuned!