You guys. I'm asking to stop what you're doing, go get your wallet, and order this book. Right now.
The Wonder of All Things - Jason Mott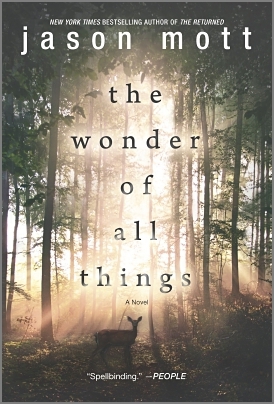 On the heels of his critically acclaimed and
New York Times
bestselling debut novel, The Returned, Jason Mott delivers a spellbinding tale of love and sacrifice
On an ordinary day, at an air show like that in any small town across the country, a plane crashes into a crowd of spectators. After the dust clears, a thirteen-year-old girl named Ava is found huddled beneath a pocket of rubble with her best friend, Wash. He is injured and bleeding, and when Ava places her hands over him, his wounds disappear.
Ava has an unusual gift: she can heal others of their physical ailments. Until the air show tragedy, her gift was a secret. Now the whole world knows, and suddenly people from all over the globe begin flocking to her small town, looking for healing and eager to catch a glimpse of The Miracle Child. But Ava's unique ability comes at a great cost, and as she grows weaker with each healing, she soon finds herself having to decide just how much she's willing to give up in order to save the ones she loves most.
Elegantly written, deeply intimate and emotionally astute, The Wonder of All Things is an unforgettable story and a poignant reminder of life's extraordinary gifts.
As soon as I saw this book up for review, I immediately jumped on it because I read Jason's first novel, The Returned, and it was amazing. To say he writes elegantly and profoundly is a total understatement. I was absolutely not disappointed with his sophomore effort because like his first novel, he was able to take a really incredible thing and turn it into a moral dilemma with no clear winners, but offers you all points of view. Almost to the point where you don't leave the book with a clear cut opinion, which to me, is a sign that something was successfully argued.
The book is about Ava. Poor Ava is involved in a horrific plane crash on an ordinary day. A victim in the rubble, she looks over and sees her best friend Wash, who is so badly injured that he's basically dead. In her grief, she places her hands on him and essentially heals him. People see this and immediately it's nationwide news that this little girl can heal people. Then we begin to have flashbacks of Ava and her mother, basically when she learned she could do this. After a hospitalization herself, Ava and her family find themselves bombarded with requests of healing power for themselves or their loved ones. Close friends of the family feel betrayed having lost their own loved ones while all the while Ava had the power of healing and in theory, could have saved them.
But the book brings up the moral dilemma: if you could heal someone, would you? Would you have an obligation to do that? At what point does your gift no longer become yours, but belong to everyone? Especially when every time she does this, it takes a toll on her and her body. Should she sacrifice herself for the benefit of others?
You want to shield her because you learn you really can't trust anyone. People become ruthless, even hateful, towards her and it's horrible, really. I can't really give much more without ruining it for you but to say this book sticks with me is a total understatement. After finishing it I really thought about it long after. It was just such a solid book, I can't recommend this highly enough.
If interested, you can connect with Jason on
his website
,
Facebook
, and
Twitter
.
The Wonder of All Things
is also available on
Amazon
and
Barnes & Noble
.
Lucky for you, I have one copy I can give away (US/Canada only)! All you need to do is leave a comment on this post telling me: if you had the power to heal, would you heal everyone who asked, or would you be selective? I will draw a winner on Monday, August 3!
cx