YOU GUYS. So in case you had no idea, I am a
huge
Becca Fitzpatrick fan. I was that person who grabbed up her first book,
Hush, Hush
on a whim and then was a fanatical fan girl who drove her local book store NUTS leading up to the release of the other three books in that series. And I loved that series. I've read it quite a few times and I love the lead character, Patch.
But then she had this weird break with nothing and it's frustrating because when you find an author you love, you want them to stop eating and just write. Write all of the time and pump out books like a maniac. Unfortunately, Becca does not do this. A little over a year ago I started hearing about her latest book,
Black Ice
, and again I got excited. I have waited so long for this book. And wouldn't you know it, I don't have the funds to pre-order it.
It was a dark day in the Strand household when that realization hit.
BUT THEN!!!
Out of the blue, I got a review copy in the mail and I'm like, "Jeebus, is that you??" and I stopped feeding my family for a whole day. I won't even tell you the hideous outfit I not only wore on Friday but that I
picked my kids up from school in
. You guys, it was bad. The kids were grateful I did not get out of the car. But good god, it was so worth it.
Black Ice - Becca Fitzpatrick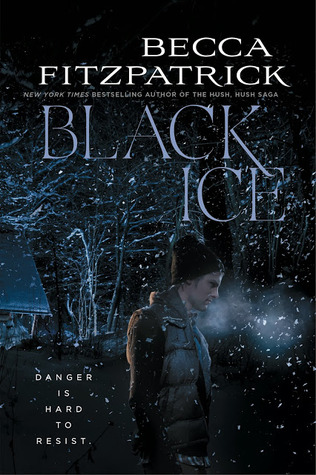 Sometimes danger is hard to see... until it's too late.
Britt Pfeiffer has trained to backpack the Teton Range, but she isn't prepared when her ex-boyfriend, who still haunts her every thought, wants to join her. Before Britt can explore her feelings for Calvin, an unexpected blizzard forces her to seek shelter in a remote cabin, accepting the hospitality of its two very handsome occupants—but these men are fugitives, and they take her hostage.
In exchange for her life, Britt agrees to guide the men off the mountain. As they set off, Britt knows she must stay alive long enough for Calvin to find her. The task is made even more complicated when Britt finds chilling evidence of a series of murders that have taken place there... and in uncovering this, she may become the killer's next target.
But nothing is as it seems in the mountains, and everyone is keeping secrets, including Mason, one of her kidnappers. His kindness is confusing Britt. Is he an enemy? Or an ally?
BLACK ICE is New York Times bestselling author Becca Fitzpatrick's riveting romantic thriller set against the treacherous backdrop of the mountains of Wyoming. Falling in love should never be this dangerous…
Full disclosure, this is a YA novel. With that being said, you're not pulling anything on me, Becca Fitzpatrick, I knew who the killer was from the word go. You know why? Because I read a lot and you're not fooling me. But I don't even care because I finished this baby on Friday. I also started it around lunch time and that baby was done by the time I went to bed. I took this book with me to pee, which happens a lot now that I'm growing a tiny human again, so this book and I have fully bonded. But do you know what else I love? I love Mason. I can't even help it. I want to eat him up, that's how much I love him.
Can we talk about Britt being stupid? Because she is really stupid.
But you have no idea what I'm talking about, so let's recap the book. Britt is a teenager who has a snobby best friend, and the best friend's brother is her ex. He's a douchebag, but Britt is still pining for him like an idiot. Instead of getting all fun in the sun for spring break, Britt and friend decide to take off to teh mountains and go hiking. Which turns out to be a terrible plan because there are girls being murdered up there and wouldn't you know it, her car gets stuck and they hike to cabin and surprise- two super cute guys are there! Seemingly unprepared for a winter blizzard in the mountains! But then it turns out that's all bad and it's downhill from there. Britt decides she's going to get them off the mountain, and then develops a little Stockholm Syndrome but THEN, ex boyfriend shows up to save her! Or does he? It all comes to a really violent ending and then we have an epilogue (THANK YOU) and it's so good.
You guys? It's so good. If you are a fan of YA romance, just do yourself a favor and get this baby when it goes on sale tomorrow. It's so good. And kind of cheesy and I don't even care. It reminds me of a couple of Linda Howard books I love (because we all know if I ever saw her in real life I would honestly pee my pants, that's how out of control fan girl I am of hers), and maybe that's why I loved this book even more.
I will say though, for as many bad reviews Becca Fitzpatrick gets, it begs the question: why do these people continue reading? I think some people have really high expectations on what the books should be and forget that this is YA, let's be honest, the majority of the audience are kind of dumb high school girls that would think Britt was just right on. I'll admit- Britt's an idiot, but so are a lot of high school girls. Honestly, calm down.
But I'm a Becca Fitzpatrick fan. I don't care. I'm a fan, I loved her first series and I loved this book.