I have such a hard time with chick lit books usually, and Susan Mallery is a a new-to-me author, so I wasn't sure what to expect. Fortunately, this was a great book and is perfect for warming up weather to get you ready for beach reads.
The Girls of Mischief Bay - Susan Mallery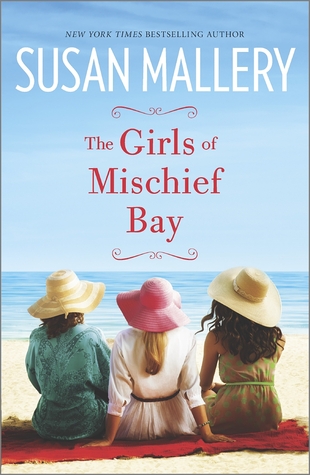 Nicole Lord wants to be a good wife, but there's a difference between being supportive and supporting her husband, who quit his job to write a screenplay she's never seen. He won't even help take care of their son, leaving Nicole to run the house and work full-time at her Mischief Bay Pilates studio. Can she say enough is enough without losing the man she loves?
Sacrificing a personal life for her career is how Shannon Rigg rose to become vice president in her firm, but she wonders now whether she made the right choice. An exciting new relationship with a great guy convinces her that it might not be too late—until he drops a bombshell that has her questioning whether she can have it all. And if she can, does she want it?
Although Pam Eiland has a beautiful house and a husband she adores, she feels… restless. She wonders who a stay-at-home mom becomes after the kids are grown. Finding sexy new ways to surprise her husband brings the heat and the humor back to their marriage, but when unexpected change turns her life upside down, she'll have to redefine herself. Again.
Through romance and heartbreak, laughter and tears, three very different women will discover that friends can become family, and that life is richer with sisters at your side.
To give you the quick and dirty, we have three friends all at different stages in life who come together to help each other when they come to a cross roads. Nicole is a mom to a five year old boy, running her own exercise studio, all while supporting the family because her husband quit his job to be a screenwriter. She doesn't know if he's successful or not but she does know that he's not bringing in an income and she's starting to feel like she's being taken advantage of. Her crossroads is a bit of a blow and I felt awful for her. I don't know how she doesn't end up on a show like Wives with Knives because he was a jerk. A totally ungrateful jerk.
Shannon is a successful career woman who isn't sure what she wants. Well, she knows she wants to meet a good guy and get married and she thinks she wants children. Except she's pushing 40 and to say her biological clock is ticking is an understatement. She meets Adam, charming and handsome, seemingly everything she could want in a life partner. He comes with a bit of baggage, an ex-wife and two kids, and Shannon isn't sure if she can blend into that kind of family. To me, her crossroads are a little more manageable and I feel like she's makes a bigger deal out of it than it should be.
Then we have Pam. Pam's at a bit of a mid-life crisis but not dramatically so. She's the oldest, and kind of the mentor, guiding the way and being an example for Nicole and Shannon. Her crossroads happens unexpectedly and I'll be honest, hers was the worst for me. By that I mean I could feel what a blow this was for her and I couldn't even imagine.
The entire book reminds me of the movie Waiting to Exhale where each woman goes through something pretty pivotal in their lives and yet they band together to move forward and they are only successful with each other. I really enjoyed the writing, I really liked the characters, and I think Susan Mallery did a marvelous job weaving each character's story and giving it enough depth to feel satisfied and then being able to pull it all together cohesively. It really reminded me of something you'd read from Dorothea Benton Frank, who I really enjoy as well.
Susan has a website that you can check out
HERE
. You can also find her on
Facebook
and
Twitter
.
Luckily for you, I am able to give away ONE copy of The Girls of Mischief Bay to a lucky reading in US/Canada.
All you have to do is comment on this blog post with a book you've been enjoying lately. One winner will be drawn on Friday, March 20!