I'm going to say it- maybe one of the best books I've read this year? Certainly one of the few who kept me engaged the entire time!
Made for You - Melissa Marr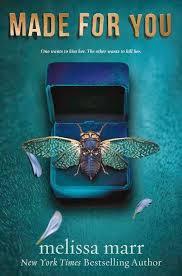 When Eva Tilling wakes up in the hospital, she's confused—who in her sleepy little North Carolina town could have hit her with their car? And why? But before she can consider the question, she finds that she's awoken with a strange new skill: the ability to foresee people's deaths when they touch her. While she is recovering from the hit-and-run, Nate, an old flame, reappears, and the two must traverse their rocky past as they figure out how to use Eva's power to keep her friends—and themselves—alive. But while Eva and Nate grow closer, the killer grows increasingly frantic in his attempt to get to Eva.

For the first time, New York Times bestselling author Melissa Marr has applied her extraordinary talent to contemporary realism. Chilling twists, unrequited obsession, and high-stakes romance drive this Gothic, racy thriller—a story of small-town oppression and salvation. Melissa's fans, and every YA reader, will find its wild ride enthralling.
I absolutely have to add Melissa Marr to my to-read-more-of authors because this book was really great. First of all, creepy ass cover, enticing book description, and really interesting writing and story line. All of these things hooked me from the first word and I had a hard time putting it down.
Basically it's the story of Eva, who is seemingly the town princess only because of her lineage, and her group of friends. She isn't totally happy and feels a bit restless and just wants to do something outside of what is normally expected of her. Very early in the story we meet the cast of characters, all of which we learn more about throughout the book, and Eva is hit by a car. Not just by any car, but by "Judge" who is fixated on Eva and believes he is sacrificing her.
Unfortunately for Judge, Eva doesn't die. Instead she's in tremendous pain, her face is scarred, and she can now see how people are going to die when they touch her bare skin. Judge only knows that she is alive and takes this as a sign that he was too hasty and now he has to make it up to her. In order to do that, he starts killing off friends and acquaintances and sends "messages" to Eva which do nothing more than terrify her. And to give it a romantic twist, while this all happens, Nate comes back into Eva's life and she has to figure out who Judge actually is, how to save her friends, and how to save herself.
For someone who doesn't normally write in the YA genre, Melissa Marr really nails her first attempt. It's everything that you want out of a YA novel, and the writing is superior to a lot of the YA authors out there right now, and that is always an absolute treat. The best part is that it's absolutely creepy and she nails the mindset of a sadistic, religious stalker perfectly. It honestly made me think this could be a really great Lifetime movie- you know the ones you decide you will only watch until the commercial and suddenly you're asking people to bring you snacks because you don't want to miss anything and you're stuck to the end. So good.