I have wanted to read this book since I heard it was coming out and I read a teaser chapter quite awhile ago. Then I tried to win a copy off of Goodreads and SURPRISE! I totally won! It was my first win off of there, so obviously
that
was exciting. Then I read this right around Halloween because it's nice and creepy, but it is also a mystery/thriller book so you can read this anytime.
The Supernatural Enhancements - Edgar Cantero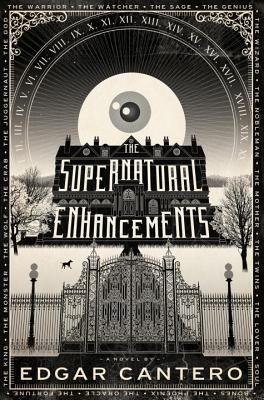 What begins as a clever, gothic ghost story soon evolves into a wickedly twisted treasure hunt in The Supernatural Enhancements, Edgar Cantero's wholly original, modern-day adventure.
When twentysomething A., the unexpected European relative of the Wells family, and his companion, Niamh, a mute teenage girl with shockingly dyed hair, inherit the beautiful but eerie estate of Axton House, deep in the woods of Point Bless, Virginia, it comes as a surprise to everyone—including A. himself. After all, he never even knew he had a "second cousin, twice removed" in America, much less that the eccentric gentleman had recently committed suicide by jumping out of the third floor bedroom window—at the same age and in the same way as his father had before him . . .
Together, A. and Niamh quickly come to feel as if they have inherited much more than just a rambling home and a cushy lifestyle. Axton House is haunted, they know it, but that's just the tip of the iceberg when it comes to the secrets they slowly but surely uncover. Why all the suicides? What became of the Axton House butler who fled shortly after his master died? What lurks in the garden maze and what does the basement vault keep? And what of the rumors in town about a mysterious gathering at Axton House on the night of the winter solstice?
Told vividly through a series of journal entries, scrawled notes, recovered security footage, letters to Aunt Liza, audio recordings, complicated ciphers, and even advertisements, Edgar Cantero has written a dazzling and original supernatural adventure featuring classic horror elements with a Neil Gaiman-ish twist.
Seriously, this book is straight screwed up but in the best way possible. I will say that even though I was ridiculously excited for it and it has an amazing cover, I struggled to get through it. It's certainly not a fast read and I think that's because so much information is covered in it. That, and the story flip flops between A's point of view, Niamh's point of view (which is interesting considering she's a mute), letters to A's aunt, transcribed recordings, etc- it's really hard to keep pace with this book. But the story is incredibly odd and it ends up being the perfect way to tell it. Let's put it this way- it's like the Blair Witch of books.
The best thing about this book is clearly the ending because I can't even tell you how incredibly brilliant and perfect the ending was. A close second is going to be the fact that the author is constantly surprising you. The story starts like a regular haunted house but it quickly escalates into something truly bizarre, terrifying, and flat out creepy and it really isn't like anything you've read before. Honestly, I feel like I was maybe spoiled for any other book in it's genre because it's going to be hard to pass this one up. The entire book is basically a riddle full of weird codes you have to decipher and it's probably a good thing Niamh is a mute because it enhances her intelligence in other areas and she quickly becomes the brains of the duo as A battles with terrible unexplained nightmares and starts going crazy essentially. Which is exactly what happened to the relative that died- he slowly went nuts and killed himself, which is how A finds himself inheriting this house. But once you find out why all of this has happened? It's pretty creative and downright strange.
I'd have to give this a 4/5 stars. I can't give it that last start because it was cumbersome and rather difficult to get through, but I am very glad I didn't give up on this.